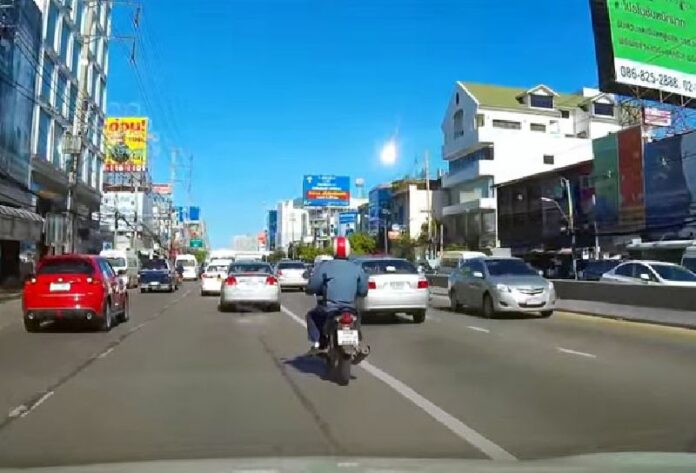 BANGKOK — A blazing ball of fire hurtled through the sky over northern Bangkok this morning and ignited social media with dramatic video footage.
Falling from the sky during the morning rush hour, the brilliant cascade was spotted by many commuters this morning was most likely a meteor burning up upon re-entry into the atmosphere, an astronomer stationed at Chachoengsao Observatory said.
"It's all burned away" Worawit Tanwutthibundit told Matichon. "The photo of the white smoke that has been shared a lot is in fact the train of smoke of a meteor. The public need not be concerned. This is a normal phenomenon."
As the meteor hurtled toward the earth, it appeared to explode, leaving behind a trail of white smoke. The atmospheric incident was captured by a number of vehicle dash cams which were shared online.
Worawit, who said he spotted the meteor while driving on a motorway in northern Bangkok this morning, estimated it fell at a speed of 70 kilometers per second before disintegrating from the heat.
The fireball caused some panic northeast of the Thai capital in Nakhon Ratchasima, where local authorities mistook it for a plane crash and dispatched more than 100 rescue workers and firefighters to search for the wreckage.
A local administrator in the Non Tha subdistrict said his villagers alerted him after they saw the fireball streak through the sky.
"They said it looks like plane crash," Somchai Nacharoen said, prompting him to report the sighting to police.
The search was abandoned two hours later once it became established that the fireball was most likely a meteor. The Second Region Army, which is based in Nakhon Ratchasima, also told reporters there was no report of a plane or helicopter crash in the region.
To reach us about this article or another matter, please contact us by e-mail at: [email protected].