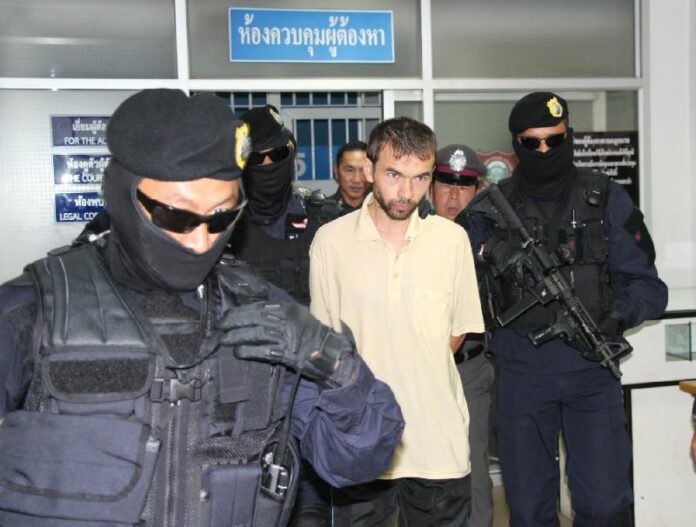 BANGKOK — A court will soon approve a 10th arrest warrant to be issued in connection with the deadly bombing that killed 20 people in Bangkok last month.
Three weeks after the worst attack of its kind in recent decades hit Bangkok, Thailand's top police officer did not give any details on the suspect for whom the warrant is being sought but said it was expected to be approved "soon."
"Applying for the arrest warrant should be no problem," police chief Gen. Somyot Pumpanmuang said. "But as for details in the investigation, we cannot disclose them to the public right now."
---
Interactive: Who's Who in the Bangkok Bombing Investigation
---
Nine arrest warrants have already been issued, including one for a man seen in security footage leaving his backpack at the popular Erawan Shrine three minutes prior to the explosion. The attack killed 20 people and injured 150, mostly foreign tourists.
Three men have been arrested in connection with the bombing so far. They are identified as Adem Karadag, Yusufu Mieraili and a Thai Muslim man from Narathiwat province called Gamarudeng Saho. Karadag was found carrying an obviously forged Turkish passport and police said has identified himself as Mohammed Bilaturk. He became the first suspect to be formally charged in the case on Friday.
Bangkok bombing suspect Adem Karadag, aka Mohammed Bilaturk, is led Saturday from a court to the Min Buri Remand Prison.
Mieraili was carrying a Chinese passport when he was arrested, though police have not yet publicly confirmed whether it is genuine.
Somyot told reporters today police believe they have identified two of the suspects from CCTV footage in the plaza of the CentralWorld shopping mall, which is located close to the Erawan Shrine.
The police chief also said investigators are reviewing security footage from shops selling chemical goods around Min Buri district to see if any suspect was captured on film.
An 29 Aug. raid of an apartment building in Min Buri turned up a cache of bomb materials and several rooms thought to have been used by the network behind the attack.
Mieraili, who was taken into Thai custody near the border with Cambodia on 1 Sept., will be brought to Bangkok's Metropolitan Police Bureau to be formally charged at 3pm today. Since his arrest, Mieraili has been detained at an army camp in Bangkok under the junta's special order that permits soldiers to detain individuals without court warrants up to seven days.
Karadag, who also spent a week under interrogation at the same army camp, was handed over by the military to police on Friday and formally charged with illegal possession of explosives. He is currently awaiting his trial at Min Buri Remand Prison.
Paitoon Amphan, director of the Min Buri Remand Prison, told reporters today that he has assigned a psychiatrist to Karadag because the inmate showed signs of stress.
"However, Mr. Adem has started to adapt his living in the prison now. His stress is reduced," Paitoon said, adding that it would not be necessary to transfer him to maximum security prison because wardens are closely monitoring him 24 hours a day.
Related stories:
First Suspect Charged in Erawan Shrine Bombing
Mounting Evidence Links Bombing to Turks, Uighurs
Tests to Confirm Whether Man is 'Bangkok Bomber'
Warrants Out for Thai Woman, Foreign Man
Police Search for More Suspects After Arrest
Floundering Bomb Investigation Deepens Doubts About Competency
No Longer Whole, a Family Buries its Dead and Waits for Answers
Bangkok Bomber May Have Fled Thailand: Police
Man Dropped Bag into Water Night Before Sathorn Pier Blast
Seen Often on Sathorn 10, Suspect Thought to Use Fake Turkish Passport
Leaked Police Report Tracks Lead Suspect Before, After Bombing
1M Baht Bounty for Bangkok Bomb Suspect
Bangkok Shrine Bombing: Those Who Died
Despite Lack of Evidence, Thai Media Points Blame at Uighurs
Tourists Narrowly Escape Second Bangkok Bombing in 24 Hours
Bangkok Shrine Bombing: Police Hunt Backpack Man
Tourists Among 19 Killed by Bomb at Bangkok's Erawan Shrine
To reach us about this article or another matter, please contact us by e-mail at: [email protected].