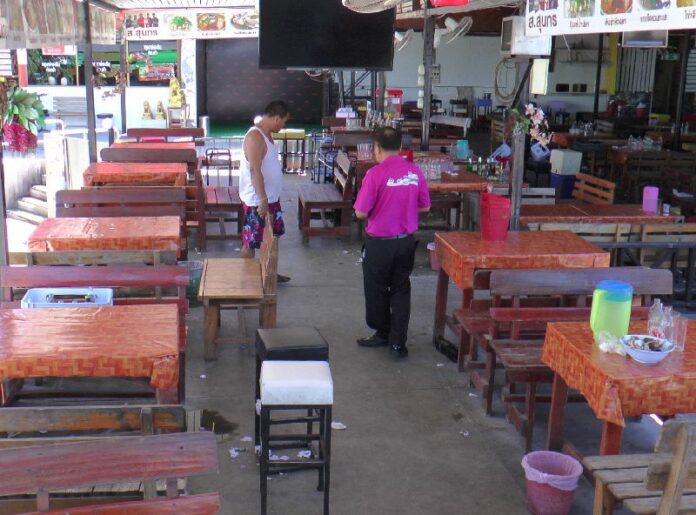 NAKHON RATCHASIMA — A police officer has been fired from the force and charged with assault after he punched a cashier at a restaurant where he had been demanding free meals.
Lt. Col. Prakarn Korpsiripat was expelled from the police force after returning to the Sor Sunthorn restaurant in Nakhon Ratchasima province on 31 Aug. and attacking the cashier who reported his refusal to pay bills totaling 1,400 baht on 29 and 30 Aug., police said yesterday.
"'Do you know who I am? Why did you report me to my boss? I got reprimanded because of you,'" restaurant owner Pongpat Bamrungkul described Prakarn saying to the cashier.
Pongpat said he and a security guard tried to calm Prakarn, but the officer kicked and punched cashier Charan Apiwatwichit in a fit of rage, breaking his nose. Restaurant staff took Charan to hospital.
The attack was captured by a security camera in the restaurant. Pongpat said he took the footage, four witnesses and Charan to file a formal report at the police station the next day.
"A doctor diagnosed that Charan's nose was broken. He has to take at least 45 days off from work to heal his nose," Pongpat said yesterday. "Right now the restaurant is paying all the medical bills for our cashier."
Prakarn has been charged with physical assault.
He was fired from his job on Thursday after police reviewed the evidence and is facing both disciplinary and criminal investigations, according to police Lt. Gen. Pisan Chulladilok, commander of Third Region Police.
"His behavior is something that I cannot accept. Police officers must have hearts that love serving the people, not bullying the people," Pisan said. "The fact that this officer committed his wrongdoing for three consecutive days shows that he has no mentality to be a police officer."
Prakarn's swift sacking was a departure from the usual punishment – transfer to an inactive post – handed down to police officers and other officials implicated in wrongdoing in Thailand.
Pisan said it was a warning to others.
"I have instructed the Nakhon Ratchasima police commander to handle this case in a straightforward manner, so that other officers will learn not to imitate this kind of behavior," Pisan said.
To reach us about this article or another matter, please contact us by e-mail at: [email protected].