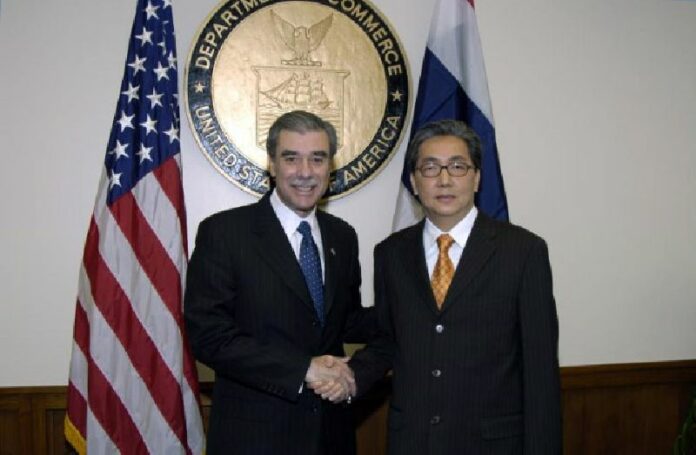 BANGKOK — The generals battling to revive Thailand's economy have been loath to employ anything resembling populism, having lambasted their predecessors for policies they say hemorrhaged billions of dollars and left Thais saddled with record household debt.
But in a stark strategy shift, the military has had to bite the bullet and reopen the populist playbook of the billionaire Shinawatra family whose governments they have twice overthrown in coups.
The junta announced last week it would channel 136 billion baht ($3.8 billion) into getting the rural masses spending to rev-up an economy stuttering amid weak exports, falling factory output and scant retail growth.
The man charged to lead the economic revival plan is marketing executive Somkid Jatusripitak, the new boss of a technocrat team given three months to get the economy in shape after what amounted to a purge by the junta of underperforming policymakers last month.
The irony is Somkid, now deputy prime minister, was the architect of "Thaksinomics," the populist handouts that spurred GDP growth to as much as 7.2 percent but angered the military-backed royalist establishment because they entrenched the popularity and electoral dominance of the man they revile – former premier Thaksin Shinawatra.
And he's not worried about a backlash.
"I think positively," Somkid told Reuters. "You have to build the strength of the grassroots economy or else the whole economy cannot survive."
Though no longer part of Thaksin's political clique, Somkid has made no attempt to brand the policies any differently, using Thaksin's term "village funds" and promising to relaunch his One Tambon One Product (OTOP) initiative, where each small area grows or produces just one high-quality product.
Spending for the Military
Somkid says the stimulus is just the start and measures to boost long-term competitiveness will follow. It's unclear if the extra spending will spur a durable economic recovery though, with growth clocking a feeble 0.4 percent on-quarter in April-June.
"Some kind of populist policies will help reignite the country," said Tim Leelahaphan, economist of Maybank Kim Eng.
"A populist policy with low risk will help shore up the popularity of the military regime."
Somkid, 62, who runs a marketing business, has held finance and commerce portfolios in previous governments. He was an advisor to the junta but is reported to have clashed with the man he replaced as deputy prime minister, royalist Pridiyathorn Devakula, who served two military governments.
The new rural stimulus measures – 60 billion baht in village microloans, 36 billion in sub-district spending and 40 billion for small projects – represent a smaller-scale revival of the policies that stoked months of protests last year against Yingluck Shinawatra's government, which culminated in a coup.
Populism is core to Thailand's political crisis, angering middle classes who consider it vote-buying in the guise of fiscal stimulus and a reckless use of their tax money.
Time Bomb
The rescue package comes at a critical time, with low commodity prices hurting farmers' income and consumer confidence, which was down in August for an eighth successive month to its lowest since the May 2014 coup.
Output from the autos and electronics-led manufacturing sector has fallen on an annual basis in 27 of the past 28 months, while exports, equivalent to 60 percent of Thailand's $374 billion economy, have fallen for seven straight months after two years of annual contraction.
Somkid has been an instant hit in local business circles, drawing loud laughter and applause during an hour-long speech in front of hundreds of businessmen last month during which he promised to revamp the rural economy and create "spark and motivation".
Thirachai Phuvanatnaranubala, the first finance minister in Yingluck's ousted government, welcomed the new approach but with household debt at 80 percent of GDP, he said Somkid's team should tread very carefully.
"Grassroots stimulus through consumption is not the answer," he told Reuters.
"Stimulus through personal debt is just a time bomb. The benefit will be short lived, and the payback painful."
Story: Reuters / Martin Petty and Orathai Sriring
To reach us about this article or another matter, please contact us by e-mail at: [email protected].