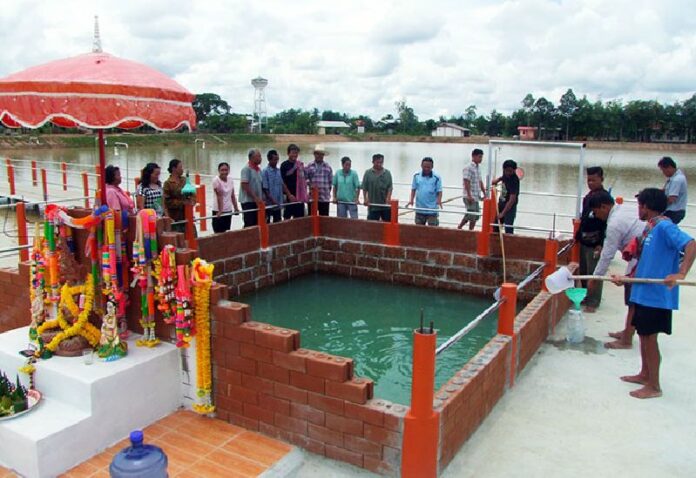 BURIRAM — Once again, something wonderful is happening in Buriram.
Waters believed to offer renewal and fortune have been surging from the earth, and locals suspect a serpentine deity may be the source of the enchanted elixir.
Candles and incense were burning today – two days before the national lottery is called – at a well near Wat Hua Nong Kaen, where visitors queued to pray and make offerings above water they believe can cure any disease and supply good fortune.
"Some people may think this is superstitious, but it depends on the faith of each person," Niyom Kamsombat, a 53-year-old resident of Nong Hua Kaen village said. He has no doubt the water can heal the illnesses of people in the community.
The magical well's origins began humbly enough as a non-magical well.
In December 2014, local authorities ordered a water reservoir be dug at the site just meters away from a pond, according to Songsak Inpaen, a 51-year-old member of the local governing board.
Workers broke ground in March, and soon after they noticed it began filling with clear water. They decided to give it a sip and found it eminently drinkable.
That's when the truth of its provenance was laid bare in a dream by one of the well's diggers.
Songsak said the unidentified worker was visited in his dreams by a Naga, which told him it was holy water the naga was making available for healing.
The worker decided to test its curative powers by feeding it to a sick elephant. The elephant got better really fast, convincing many of the water's preternatural properties, Songsak explained.
Officials were less certain and came to test the water's safety today. They advised locals to refrain from worshiping the well. However they did tell them to go ahead and continue drinking it, as tests found it was totally potable.
To reach us about this article or another matter, please contact us by e-mail at: [email protected].