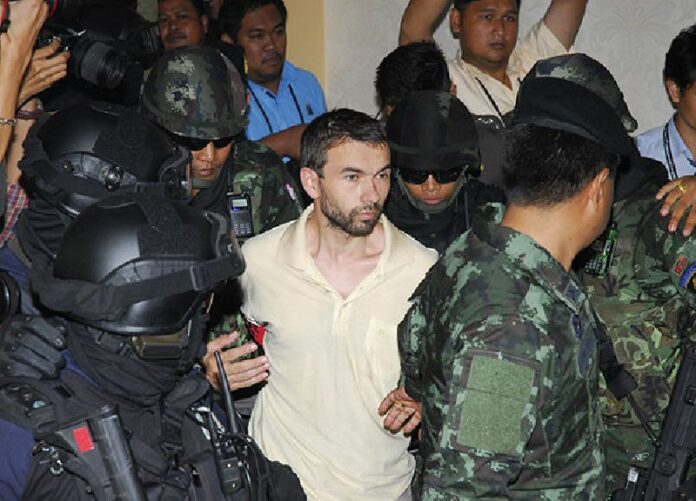 BANGKOK — The first man arrested on suspicion of involvement in last month's bombing of the Erawan Shrine insists he had nothing to do with the attack and only arrived in Thailand days before he was taken into custody in a raid.
Turkish national Adem Karadag, also known as Mohammed Bilaturk, said through his lawyer that upon arriving in Thailand on 24 Aug., the broker paid to smuggle him from Turkey ordered him to remain inside an apartment building where security forces discovered him among fake Turkish passports and bomb-making materials on 29 Aug.
"He insisted that he had nothing to do with the materials found at Poon Anan Apartment," his lawyer Chuchart Kanpai said. "The news that the materials at the room belonged to him may have been because of miscommunication."
---
Interactive: Who's Who in the Bangkok Bombing Investigation
---
Authorities also learned today from the Bangladeshi Embassy in Bangkok that the man suspected of orchestrating the bombing which killed 20 people was last known to have boarded a flight to Istanbul, Turkey, and not China as reported earlier.
Abu Dustar Abdulrahman, a 27-year-old Chinese national also known as "Izaan," left Bangkok for Bangladesh one day before the blast. From there, he flew to Istanbul on 30 Aug., one day after investigators arrested Karadag in Bangkok, police officials said today.
Bangladeshi police officials had previously claimed he had traveled to Beijing, China.
Chuchart said Karadag traveled from Turkey to Thailand via Laos and Vietnam, having paid a broker called Abdullah Abdullahman for his passage. Abdullahman was named in the investigation's 10th court-approved arrest warrant on 7 Sept.
Composite image released for suspect Abdullah Abdullahman by Royal Thai Police. Karadag's lawyer said today his client paid Abdullahman to smuggle him into Thailand.
Asked about Karadag's claim of innocence, Police Lt. Gen. Prawuth Thawornsiri today said he was not surprised, because Karadag had denied the charges since his arrest.
It was his capture that prompted Thai police to pay themselves a 3 million baht reward offered in the case, after identifying Karadag as a member of a network behind the attack.
Chuchart described Karadag as a patsy for whom Thailand was nothing more than a transit point for further travel.
"He wanted to become a chaffeur in Malaysia," Chuchart said.
After briefly being transferred to civilian police, Karadag is back in military custody at the 11th Army District in Bangkok, which has been converted into a "special prison" for bomb suspects. He is being held there along with Yusufu Mieraili, a Chinese national who was the second arrest to be made on 1 Sept.
Related stories:
Three Thai Women Detained in Din Daeng Raid
First Suspect Charged in Erawan Shrine Bombing
Mounting Evidence Links Bombing to Turks, Uighurs
Tests to Confirm Whether Man is 'Bangkok Bomber'
Warrants Out for Thai Woman, Foreign Man
Police Search for More Suspects After Arrest
Floundering Bomb Investigation Deepens Doubts About Competency
No Longer Whole, a Family Buries its Dead and Waits for Answers
Bangkok Bomber May Have Fled Thailand: Police
Man Dropped Bag into Water Night Before Sathorn Pier Blast
Seen Often on Sathorn 10, Suspect Thought to Use Fake Turkish Passport
Leaked Police Report Tracks Lead Suspect Before, After Bombing
1M Baht Bounty for Bangkok Bomb Suspect
Bangkok Shrine Bombing: Those Who Died
Despite Lack of Evidence, Thai Media Points Blame at Uighurs
Tourists Narrowly Escape Second Bangkok Bombing in 24 Hours
Bangkok Shrine Bombing: Police Hunt Backpack Man
Tourists Among 19 Killed by Bomb at Bangkok's Erawan Shrine
To reach us about this article or another matter, please contact us by e-mail at: [email protected].