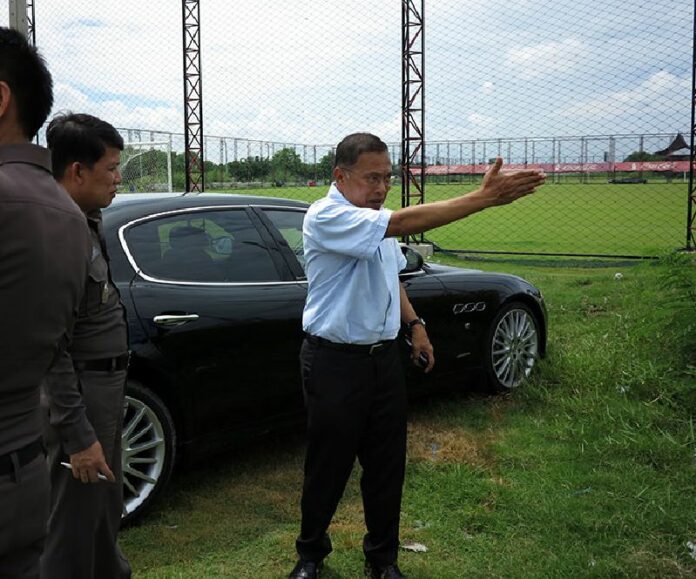 BANGKOK — A former Pheu Thai MP is accusing the military junta of trying to silence his criticism by dispatching an army thug to assault him at a football field – a charge denied by the military.
Watana Mueangsuk, who has sued the junta for preventing him from traveling abroad, filed an assault charge today over an incident in which he said a soldier punched him after he finished playing football Saturday at a field in northern metropolitan Bangkok.
Watana said the man walked up behind him in the car park, punched him in the head three times and fled the scene. His license plate identified him as a soldier.
"So, I'd like to ask the NCPO chairman: What was your subordinate doing at the scene?" Watana told reporters today, referring to the junta's formal name, The National Council for Peace and Order, and its chairman Gen. Prayuth Chan-ocha.
Watana said he's confident he was assaulted because of his political opinion because he has no personal grudges with anyone. No one witnessed the altercation, he said, but he photographed his assailant's vehicle and found it was registered to Sgt. Wissanupong Komtian, an intelligence officer at the 2nd Infantry Division.
Division commander Maj. Gen. Srisak Poonprasit said today that while Wissanupong was indeed at the football field on Saturday, he was merely there to "watch football, because he likes to watch sports."
"He's not related to the physical assault against Wattana at all," Srisak said. "More importantly, he doesn't know Watana."
Watana served as an MP for the Pheu Thai Party under the previous government, which was toppled by the military in the May 2014 coup d'etat.
He was among hundreds of people summoned by the military junta to army camps for "attitude adjustment" in the wake of the coup. Watana and other detainees were later released on the condition that not participate in political activities and seek permission from the junta before leaving the country.
But in July, Watana's request to go on an overseas trip was denied on the grounds that he repeatedly criticized the regime.
He later filed a civil suit against junta chairman Prayuth for infringing on his right to travel. The suit was dismissed by judges, and Watana appealed the ruling in August. The case is ongoing.
Prayuth today insisted the military was not involved in the assault.
"He always blames the military. How does he view the military? Are we some kind of bullies to him?" said Gen. Prayuth, who has extensively clamped down on civil rights in Thailand since he seized power. "And why are the media listening to him? This kind of person, is he credible? The person who talks like this, is he credible? The media keeps broadcasting his words."
He faulted reporters for listening to "bad" people.
"You don't give good people a voice," he said. "You only give a voice to people who are not good, every day. And how will the country be peaceful?"
Related stories:
Ex-Pheu Thai MP Appeals Junta's Travel Ban
To reach us about this article or another matter, please contact us by e-mail at: [email protected].