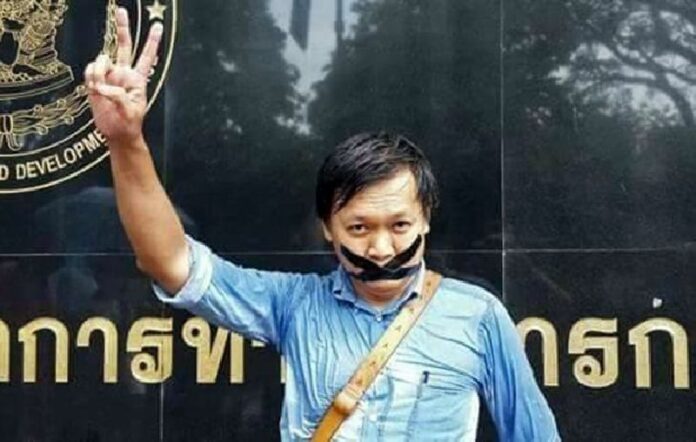 BANGKOK — A journalist from a prominent English-language newspaper in Thailand became the third person to be held incommunicado by the military this month, as the ruling junta escalates its recent clampdown on dissent.
Pravit Rojanaphruk, a columnist for The Nation and a prolific critic of the junta, was taken away from his home by a group of soldiers yesterday, according to Pavinee Chumsri of the Thai Lawyers for Human Rights group.
Pravit's detention comes amid an uptick in suppression of dissent by the Thai military junta, which is also holding two politicians who served under the former government – Pichai Naripatapan and Karun Hosakul – in secret locations because of their vocal opposition to the regime.
According to Pavinee, soldiers did not tell Pravit where he was being taken, nor did the soldiers tell him when he would be released or why he was being detained. Pravit was also forced to leave his mobile phone behind, Pavinee told Khaosod.
"We believe the soldiers detained Mr. Pravit because of his exercise of rights and freedom to criticize the NCPO," said Pavinee, referring to the junta's formal name, the National Council for Peace and Order.
Pravit has used his platform both professionally and on social media to frequently criticize the junta. His last tweet sent at 2pm on Sunday read, "Freedom can't be maintained if we're not willing to defend it."
Since seizing power from the elected government in May 2014, the NCPO has banned protests, political activities and any public challenge to its rule. It has summoned hundreds of politicians, academics, activists and other dissidents for "attitude adjustment" in army camps for up to seven days. They were later released on the condition that they refrain from participating in any political activity.
Pravit was among those detained in June 2014. He was released after seven days in detention at an army camp in Ratchaburi province.
He has since been covering the junta's suppression of free speech in Thailand in his pieces for The Nation. He also frequently criticized the military government on his Facebook and Twitter accounts.
On Friday he posted a direct challenge to junta chairman Gen. Prayuth Chan-ocha.
"Can someone please warn Prayuth to stop abusing his dictatorial power," he wrote. "It doesn't look pretty. It's un-Thai."
Junta spokesman Col. Winthai Suvaree confirmed Pravit's detention today, saying it was because of his "presentation of information that does not comply with our measures for maintaining peace and order."
"Right now, he is being processed by security officers," Winthai said. "How long it's going to take depends on the result of the interrogation and his cooperation."
Winthai went on to stress that security officers have only "innocent agendas" in dealing with Pravit, and asked the public to cooperate by refraining from causing any "disorder in society."
"They have to be cautious of anything that may cause disorder in the society, so that society can have peace and order, which will support steps to move our country forward," the spokesman said.
On Thursday, Prayuth warned that dissidents who continue to criticize his regime may be summoned for "attitude adjustment" and even face legal repercussions.
"If they won't learn, they will be jailed again and again. That's all. How hard can be it? If they do something wrong again, they will be jailed again," he said.
Today The Nation also posted a statement on its website demanding Pravit's immediate release. The statement quoted Nation Group's top editor Thepchai Yong as saying that the newspaper would submit a letter to Prayuth urging him to release Pravit.
"There is no justification whatsoever for his detention. If the military believes he has done something wrong, there are normal legal channels to deal with it," he said in the statement.
Related stories:
Prayuth Threatens to Silence Critics Amid Uptick in Detentions [Transcript]
Junta to Hold Politician 'Until He Cooperates'
Outspoken Journalist Pravit Rojanaphruk Turned Himself in to Coup Makers
To reach us about this article or another matter, please contact us by e-mail at: [email protected].