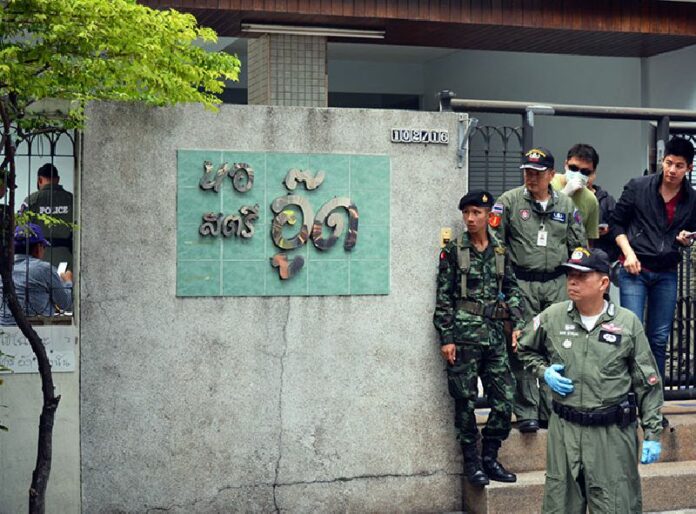 BANGKOK — Security forces raided an apartment in Bangkok yesterday and detained three of its residents in connection with the bomb attack that killed 20 people in the capital city last month.
Police and soldiers raided a women's apartment building in the Din Daeng district at about 1pm on Sunday after receiving reports that suspects in the 17 Aug. bombing may have "dropped some things" off in one of the rooms there, Bangkok police commander Sriwarah Rangsipramnakul.
"Suspects in the Ratchaprasong Intersection bombing dropped clothes and some other things in the room," Lt. Gen. Sriwarah said. "So we detained three women who owned the room for interrogation and collected evidence in the room in order to find DNA and fingerprint traces."
---
Interactive: Who's Who in the Bangkok Bombing Investigation
---
No bomb-making materials were found in the apartment room, Sriwarah added.
The three women were identified as Kwanchira, 23; Ratsanan, 24; and Panisara, 39. They were sent to an army base in Bangkok for interrogation, under an April order issued by the ruling military junta that permits soldiers to hold individuals without court warrant for up to seven days.
20 people were killed and more than 150 injured when the bomb struck the popular Erawan Shrine at Ratchaprasong Intersection on 17 Aug. Most of the victims are foreign tourists. On the next day, a bomb exploded in the water next to Sathorn Pier – another site frequently visited by foreign tourists – but no one was injured in the blast.
No one has claimed responsibility for the attacks so far, though police have issued 12 arrest warrants in connection with the bombing.
Police Lt. Gen. Prawuth Thawornsiri announces an arrest warrant Saturday for shrine bombing suspect Abu Dustar Abdulrahman.
A 12th arrest warrant in the investigation was issued yesterday for 27-year-old Chinese national Abu Dustar Abdulrahman, according to police spokesman Prawuth Thawornsiri.
Although police initially identified Izaan as the ringleader of those behind the bombing and as a Chinese Uighur when the warrant was first announced, Prawuth walked those assertions back yesterday.
"We don't believe that he's the mastermind, because there is some other evidence. We will also inspect information provided by the Chinese authorities," Lt.Gen. Prawuth told reporters. "We will coordinate with Interpol and police of countries that we believe Izaan is hiding, in order to ask for an extradition."
He also asked reporters not to identify him as a Uighur, as he was in an image first made public by police and later revised to drop the reference.
No one has claimed credit for the attack but the belief that a Uighur group or another sympathetic to their cause has been bolstered by abundant links made between Turkish suspects and Chinese nationals from Xinjiang province, the Uighur homeland.
Speculation has ascribed the attack as vengeance for Thailand's decision to deport more than 100 Uighurs back to China in July under pressure from Beijing.
Abdulrahman is thought to have fled Thailand to Bangladesh a day before the bomb attack and then flown to Beijing on 30 Aug.; authorities have said they will seek his cooperation in locating and extraditing him from the Chinese.
He is the second Chinese national to be identified as a suspect in the case. On 1 Sept., another man identified as being from Xinjiang, Yusufu Mieraili, was taken into custody near the border with Cambodia.
Related stories:
Thailand to Seek Extradition of Bombing 'Ringleader' from China
Bangkok Bombing Mastermind 'Fled to Bangladesh'
Authorities Weigh Military Trial for Bombing Suspect
Bangkok Bombing Suspect Confesses, Police Say
First Suspect Charged in Erawan Shrine Bombing
Mounting Evidence Links Bombing to Turks, Uighurs
Warrants Out for Thai Woman, Foreign Man
Police Search for More Suspects After Arrest
Floundering Bomb Investigation Deepens Doubts About Competency
No Longer Whole, a Family Buries its Dead and Waits for Answers
Seen Often on Sathorn 10, Suspect Thought to Use Fake Turkish Passport
Leaked Police Report Tracks Lead Suspect Before, After Bombing
Bangkok Shrine Bombing: Those Who Died
Despite Lack of Evidence, Thai Media Points Blame at Uighurs
Tourists Narrowly Escape Second Bangkok Bombing in 24 Hours
Bangkok Shrine Bombing: Police Hunt Backpack Man
Tourists Among 19 Killed by Bomb at Bangkok's Erawan Shrine
To reach us about this article or another matter, please contact us by e-mail at: [email protected].