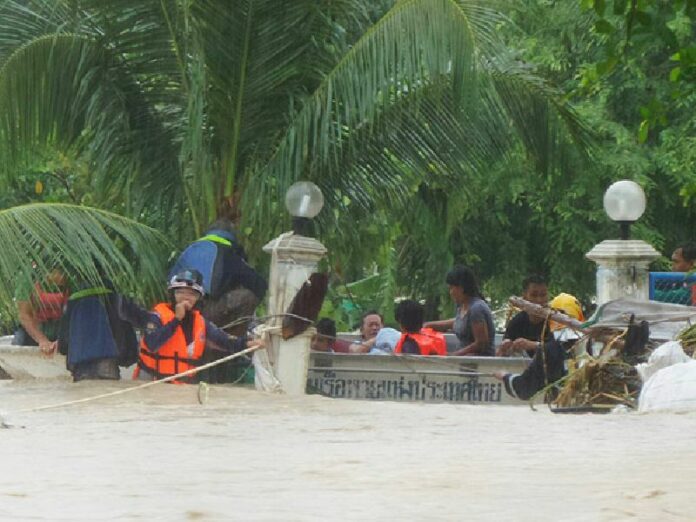 CHONBURI — Raging floods have trapped families in their homes and destroyed roads southeast of Bangkok in Chonburi province prompting the military government to declare a state of emergency there and in x other provinces.
The third day of heavy rain from tropical storm Vamco wreaked havoc today throughout the eastern and southern regions of the realm. Pattaya and its surrounding districts have been particularly hard hit by a combined force of flooding and high sea levels caused by the storm, one of the fiercest to hit the area in recent years.
"We have designated Pattaya City to be a disaster zone, so all agencies will be able to fully provide help in the area, and they can use funds for natural disasters," said Gen. Anupong Paochinda, Minister of Interior Affairs.
No injuries or deaths have yet been reported.
Radar map of current conditions. Image: Thai Meteorological Department
Bangkok officials, who were excoriated earlier this year for failing to adequately prepare for flooding, sounded a confident note by "guaranteeing" no floods in the capital tonight.
"Since Bangkok's drainage system is able to relieve flooding within two hours, the [Bangkok Metropolitan Administration] assured the public that overnight flooding will not occur," read a report in state media. "However, commuters should still plan for traffic congestion due to rainy conditions."
The city has dredged canals and reduced their water levels in anticipation of the storm, the BMA said. It also warned the city's canals may therefore put off fouler odors than usual. Elsewhere, the BMA said it has installed more than four million sandbags along the Chao Phraya River and harbor area.
Roads in Chonburi's Sriracha district were severely damaged. Officials warn motorists to take extreme caution as they drive through affected areas.
Surin Petchkaew, 72, and her 7-year-old granddaughter could not escape to high ground in time and were stranded in their home amid raging flood waters for three hours before being rescued. She said the flood came so fast she couldn't run in time.
To reach us about this article or another matter, please contact us by e-mail at: [email protected].