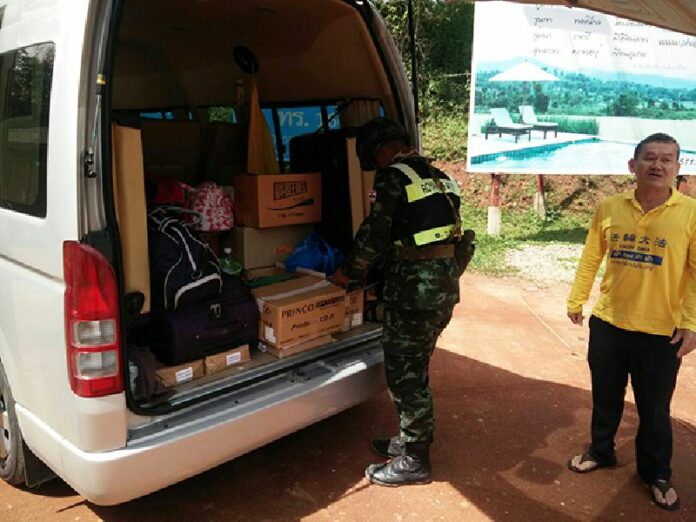 MAE HONG SON — Six Falung Gong activists were briefly detained by soldiers in the north of Thailand today for carrying pamphlets deemed critical of China.
Soldiers stopped the group as they were traveling by van today in the Pai district of Mae Hong Son and confiscated their brochures, which introduce Falun Gong and criticize Beijing's suppression of their faith, because they were concerned they might affect international relations.
The six campaigners – a Thai man and woman; an Akha woman, a Burmese woman, and two Chinese women – were briefly detained and later released. Soldiers kept their more than 600 pamphlets.
Wattana Anuraksrithong, who identified himself as leader of the group, said he assured the soldiers their literature was legal.
Soldiers said they would return them to Wattana once they determine they do not affect peace and order in the country.
All six campaigners were later released from custody.
Thailand's military government has banned all political activities and public gatherings since they seized power from an elected government in 2014. Although religious evangelization is mostly tolerated, Thai officials have treated Falun Gong with suspicion, fearing that its rhetorics risk antagonizing the Chinese government – a major junta ally.
China banned the movement in 1999, accusing the group of being a dangerous cult. An application to form a Falun Gong society in Thailand was rejected in 2005 on the grounds that approving it would damage Thai-Chinese relations.
However a recent court verdict overturned that decision and granted official recognition to the association.
Falung Gong activists previously handed out materials without incident on Sunday in Chiang Rai province.
Related stories:
Falung Gong Wins Right to Organize in Thailand
To reach us about this article or another matter, please contact us by e-mail at: [email protected].