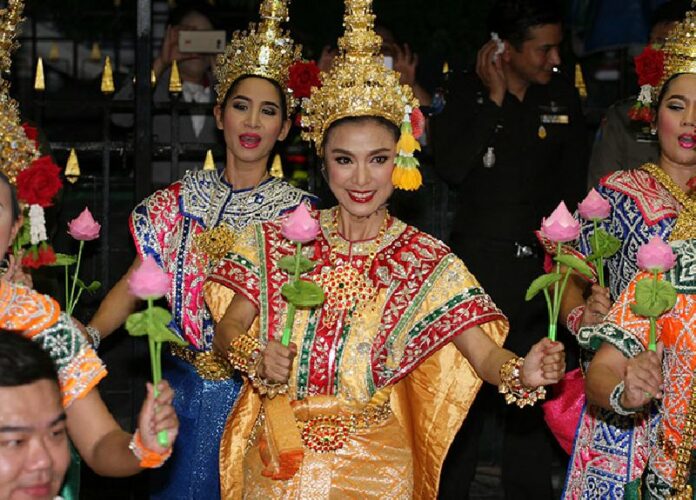 BANGKOK — Hong Kong eased its warning against visiting Thailand yesterday as Thai tourism officials hosted a celebrity visit to the site of last month's bomb attack which killed two visitors from the territory.
One of Hong Kong's most famous actresses, 60-year-old Michelle Yim, known better as Mai Suet, donned traditional costume to go through the motions alongside familiar Thai dancers at the Erawan Shrine on the same day Hong Kong lowered its travel alert from red to yellow, urging caution.
"Residents who intend to visit the country or are already there should exercise caution, attend to personal safety, pay attention to announcements by local authorities and avoid large gatherings of people," read the updated notice posted online.
Hong Kong actor Simon Yam poses yesterday at Bangkok's Erawan Shrine
Yim and Hong Kong actor Simon Yam appeared at the invitation of the Tourism Authority of Thailand.
"Hong Kong SAR is a very important short-haul, high-spending source of visitors" authority Governor Yuthasak Supasorn said in a written statement. "We are pleased to have received the support of well-known Hong Kong celebrities who are themselves regular visitors to Thailand to back our recovery campaign."
Accompanying Yam in his visit to the shrine yesterday, Yutthasak said the two celebrities were not paid for their appearances.
"They came here on their own. TAT didn't hire them. We merely provided convenience in terms of accommodation and souvenirs, on behalf of the agency that takes care of promoting Thailand's tourism," he said.
He added that the tourism authority chose the two celebrities to help promote Thailand because they represent a "balance between the new and the old generations" of Hong Kongers.
Minister of Tourism Kobkarn Wattanavrangkul thanked Hong Kong for relaxing the travel warning.
"We recognize Hong Kong as a true friend of Thailand," she said.
The tourism sector's vitality has been a concern in Thailand following persistent crises, including sometimes violent street protests, a military coup, martial law and most recently the bomb attack, which killed 15 foreign visitors. Daily government updates on the investigation into the attack often incude sunny assurances of improvement to "the overall tourism picture."
After the 17 Aug. bombing, Hong Kong urged its citizens to avoid Thailand entirely. That was a stronger advisory than those issued by about two dozen other nations which counseled "caution."
Mai Suet, aka Michelle Yim prays at Bangkok's Erawan Shrine yesterday evening.
Related stories:
Six-Month Visas for Tourists Start November
To reach us about this article or another matter, please contact us by e-mail at: [email protected].