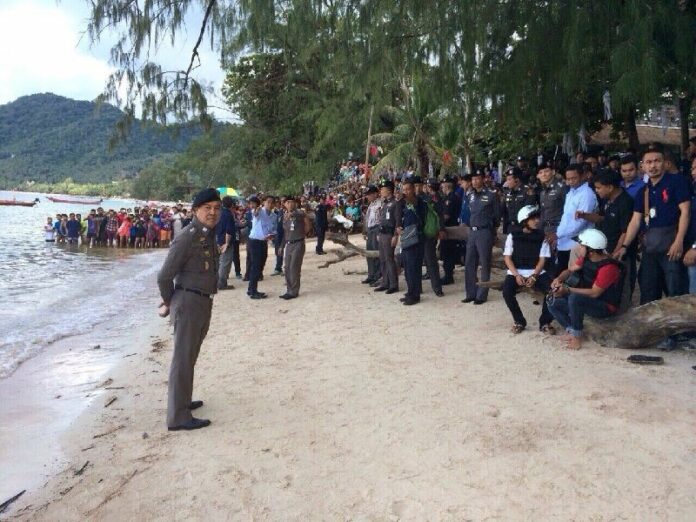 KOH SAMUI — Lawyers defending two Myanmar migrant workers on trial for the Koh Tao murders of two British backpackers sought on Wednesday to expose holes in a police investigation they maintain was botched and intended to frame the suspects.
The conduct of Thailand's police and treatment of its huge Myanmar labor force has been central to the trial of the young men accused of killing Hannah Witheridge and David Miller a year ago on the southern island.
Post-mortem examinations showed the victims suffered severe head wounds and Witheridge was raped, but lawyers and activists said the two Myanmar accused, Zaw Lin and Win Zaw Htun, have been made scapegoats for the killings.
The case has attracted extensive media attention in Britain and raised questions about Thailand's ability to protect its tourists. The bodies of Miller, 24, and Witheridge, 23, were found on a beach on the small island popular with backpackers and divers.
The hearings are taking place on nearby Koh Samui, where the defense would present a statement from a British expert who has analysed surveillance camera footage being used as evidence.
The expert was contacted by Briton Andy Hall, a Thailand-based activist who specialises in protecting the rights of Myanmar laborers and exposing abuses.
"We saw a lot of instances of police abuse and torture that were happening, and a concern for us is that the police were just focusing on ways to nail the two defendants," Hall said outside the court.
"We believe, from my investigation, that they blocked out so much of other evidence that could have been used … simply to focus on the two accused," he said, referring to the police.
Police have stood by their investigation and Prime Minister Prayuth Chan-ocha has said "nobody would dare" go after the wrong suspects because the case was so high-profile.
The defence has used Thailand's foremost forensics expert to scrutinise DNA samples that police said tied the two men to the murders. The court has heard that DNA found on the murder weapon did not match that of the defendants.
The court ordered a reexamination of the samples after police said they had lost the DNA, then contradicted themselves.
They said in October the two Myanmar men, both 22, had confessed. But the suspects retracted those confessions, saying they were given under duress.
Defense lawyer Nakhon Chompuchat on Wednesday said his duty was to convince the judge to question whether the evidence had sufficient credibility to convict the men.
The case continues.
Story: Reuters / Prapan Chankaew; additional reporting Juarawee Kittisilpa in Bangkok
To reach us about this article or another matter, please contact us by e-mail at: [email protected].