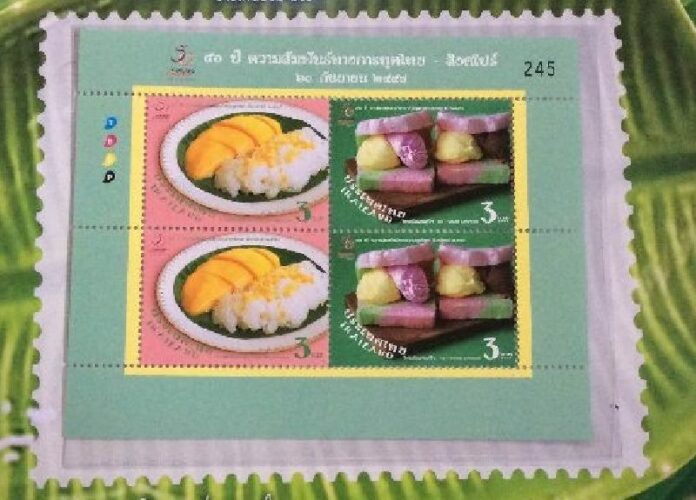 BANGKOK — To honor the mutually "sweet" relations with Singapore, Thailand's military government has reached for one of the kingdom's most delicious assets: mango sticky rice.
A half million new postage stamps adorned with ready-to-lick images of famous desserts from both nations – mango sticky rice and ice cream sandwiches – have been printed to commemorate the golden anniversary of diplomatic relations between the two countries, Thailand's Ministry of Foreign Affairs announced today.
"It represents our sweet relationship, from past to present," the ministry's Norachit Sinhaseni said at a ceremony today.
Each stamp will cost 3 baht, so those wanting both desserts need prepare 6 baht for a double-serving.
Thailand established diplomatic relations with Singapore soon after the island nation secured its independence from Malaysia 50 years ago in August 1965.
Bilateral ties between the two nations have been warm. In June, the Singapore Botanic Gardens named an orchid species after junta chairman Prayuth Chan-ocha and his wife Naraporn Chan-ocha. The naming of Dendrobium Prayuth Naraporn Chan-ocha came while the couple was in Singapore on a state visit.
Singapore is also the second largest trade partner of Thailand in Southeast Asia, and Thailand welcomed more than 864,000 Singaporean tourists in 2014 – the ninth-largest group of tourists by nationality to visit.
Related stories:
Singaporean Officials Name Orchid Species After Thai Junta Leader
To reach us about this article or another matter, please contact us by e-mail at: [email protected].