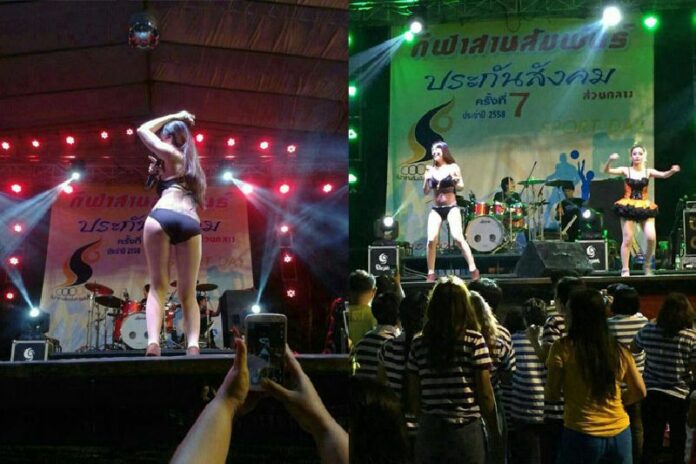 BANGKOK — The Ministry of Labor is investigating why a bikini-clad singer was invited to serenade officials at a recent concert organized by the Social Security Office.
The Ministry's permanent secretary Nakhon Silpa-archa said a committee has been convened and ordered to look into a Saturday concert held for Social Security Office officials which included a sexy dance show by a woman in a black bikini, photos of which quickly spread online and drew criticism.
"This incident affects the image of the Ministry of Labor and the government," Nakhon said.
He said the committee will report back in five days with its findings.
"We have to investigate whether the organizers intentionally [invited her]," Permanent Secretary Nakhon said. "The punishment won't be as high as an expulsion, but the offenders will have to made an example. Punishments range from a warning to a salary cut and demotion. I and the Minister [of Labor] are very angry about what happened."
"Someone will have to be held responsible for this," he added.
Boonsong Thapchaiyuth, sec-gen of the Social Security Office, told reporters he was in charge of planning the concert, but insisted the musical line-up did not originally include the provocative singer's act. He said the company that organized the event has been blacklisted, and its owners would be summoned to give testimony.
According to Boonsong, some officials at the concert were immediately offended by the singer, and the show was stopped just two minutes after it began.
"We had no intention to organize that kind of lewd show," Boonsong said today.
To reach us about this article or another matter, please contact us by e-mail at: [email protected].