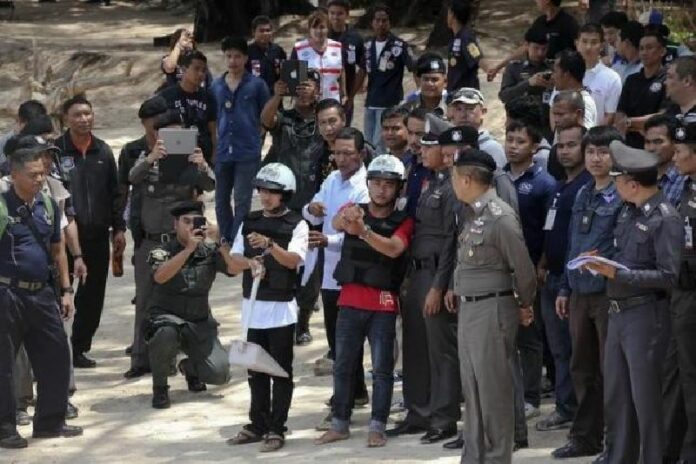 SURAT THANI — Lawyers for two Myanmar migrant workers accused of killing two British tourists on Koh Tao appealed for more time on Thursday to prove they were scapegoats innocent of the brutal, high-profile murders.
Hannah Witheridge and David Miller, both in their 20s, were beaten to death a year ago on the southern holiday island of Koh Tao, causing outrage in Britain. Witheridge was also raped, a post-mortem examination showed.
Lawyers are trying to convince the judge that Zaw Lin and Win Zaw Htun were framed by police under pressure to solve a case that has caught international attention and hurt Thailand's image as a tourism haven.
The defense tentatively had until Friday to wrap up its case, but chief lawyer Nakhon Chomphupat said there were problems convincing witnesses to testify as some feared retribution.
"I don't think we can have all of the witnesses (before Friday)," he told reporters outside the court on Samui island. "There's a problem, our informers lack courage to stand as witnesses because some of them still work on Koh Tao."
This evening migrant labor activist Andy Hall, who has been consulting with the defense team, said on Twitter the judge agreed to an extension with the details to be finalized on Friday.
"Defence requested extra 2 days after tomorrow's hearing, prosecution said agreed to only one day. Judge agreed extension but finalise 2mrw," he wrote on Twitter.
Central to the defense is disproving what it sees as a patchy investigation marred by disputed forensics, a contaminated crime scene and selective use of surveillance video to implicate the accused.
A human rights expert was due to testify on Thursday about his own investigation, which lawyers said showed the suspects had suffered police abuse under interrogation. Another witness, a former lawyer, was expected to testify that false confessions were forced from the suspects.
Police have stood by their probe and Prime Minister Prayuth Chan-ocha has ruled out foul play.
Allegations of torture and police misconduct have caused a stir in Britain and its Prime Minister David Cameron raised concerns during a meeting with Prayuth, who agreed to allow London police to carry out their own internal investigation.
They have refused to disclose their final report to anyone other than the victims' families, as a pre-agreed condition.
Many people from Myanmar, known also as Burma, work on the Thai holiday islands of Koh Tao, Koh Phangan and Koh Samui, just a short trip from southern Myanmar across a narrow mainland peninsular.
The estimated 2.5 million Myanmar workers in Thailand provide vital remittances. Many complain they suffer maltreatment, including extortion, from Thai police.
Story: Reuters / Prapan Chankaew, with additional reporting by Jutarat Skulpichetrat in Bangkok and Khaosod English
Related stories:
Defense Points to Flaws in Probe of Koh Tao Murders
Koh Tao Murders: DNA on Weapon 'Does Not Match' the Accused
Koh Tao Trial Resumes, Court Shown Footage of Victims' Final Night
To reach us about this article or another matter, please contact us by e-mail at: [email protected].