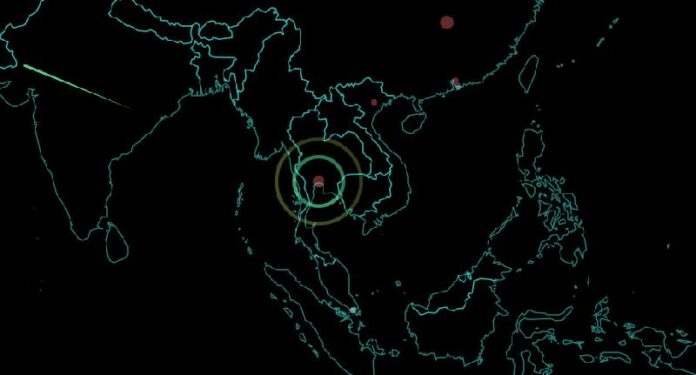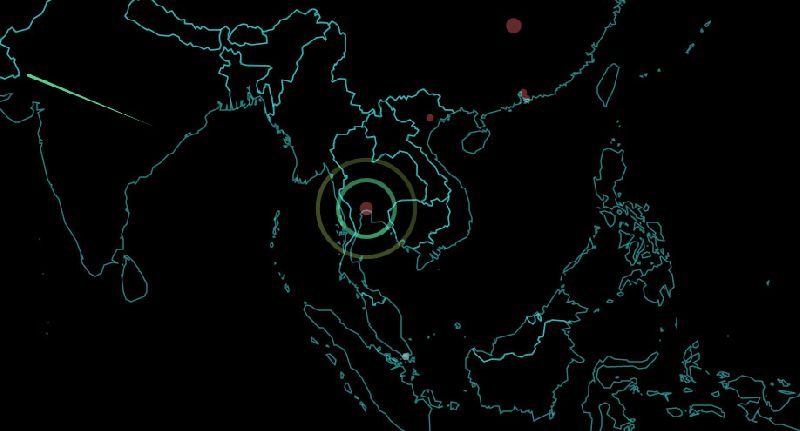 BANGKOK — Thai authorities have taken steps toward achieving their stated desire of gaining greater control of internet use by creating a single gateway for all internet traffic in and out of the kingdom.
The military government's intention to police internet content by channeling it all through a single point of control has taken practical steps toward becoming a reality in recent weeks, with officials being instructed to "speed up" the process of implementation of a system which alarm advocates of a free and competitive internet.
Although the idea was first floated almost immediately after the ruling junta came into power, it only went into writing last month. On 4 Aug. the military government approved the plan, and on 27 Aug. issued an order to the ministry tasked with regulating the internet to make it happen, according to cabinet meeting records.
Officials inspect an internet cafe in Phuket province in this 19 June, 2013, file photo from the Phuket provincial Public Relations Office.
"The Ministry of Information Communication Technology is hereby instructed to speed up the aforementioned issue and report any progress to the prime minister by September 2015," read the 27 Aug. cabinet minutes of the gateway project.
Col. Setthapong Malisuwan, deputy chairman of the National Broadcasting and Telecommunication Commission, told BBC Thai that he prefers to call the "single gateway" a "hub" to avoid any negative connotation.
He defended the plan, saying the "single hub" would allow Thai security forces to monitor internet traffic more easily. Col. Setthapong also insisted that the idea would promote, not hamper, Thailand's digital economy, and claimed other modern countries have similar surveillance measures.
"Singapore, United Kingdom and United States, many countries already have this kind of law. Cybersecurity laws," the colonel said in an interview with BBC Thai. "We are really latecomers."
Arthit Suriyawongkul, coordinator of internet freedom advocacy group Thai Netizen Network, told Khaosod English that the Ministry of Information, Communication and Technology recently gave two options to ISP representatives in the meeting: Either direct all signals through a central gateway operated by the ministry or consent to having tracking devices installed in their ISPs.
The meeting was the latest development in creating a technical means for the military state to get a grip on the internet following failed attempts to win cooperation from the likes of Google, Facebook and Line one month after it seized power from the civilian government in May 2014.
The junta's campaign for greater control of internet use was born after those requests were rejected in June 2014. At the time Thai authorities vowed to have it in place within two months.
According to Arthit, no conclusion was reached in the recent meeting with ISPs, and not one has yet to commit to one of the two options presented.
"There were concerns whether the [Ministry] can handle all that traffic," he said. The Ministry of ICT currently operates Thailand's porous blocking infrastructure which gives them some measure of censorship capacity by maintaining a black list of sites intended to be inaccessible in Thailand, measures which in reality are easily circumvented.
A spokeswoman at True Corp., who declined to identify herself, said the project has yet to go anywhere.
"There have been no developments in the single gateway, but True is willing to cooperate with the authorities if a single gateway is implemented," she said.
True's True Internet is Thailand's largest ISP. Calls to state-owned CAT Telecom, which controls Thailand's telecom infrastructure and international gateways, were not returned.
Officials insist that a single gateway – similar to China's control over internet traffic via its "Great Firewall" – is necessary to protect national security because it would allow law enforcement authorities to easily track down individuals responsible for online crimes.
In July police chief Somyot Pumpanmuang made a fresh call for a tighter grip over the internet in response to online rumors of financial malfeasance by junta chairman Gen. Prayuth Chan-ocha.
"As long as Thailand still uses the 12-gateway system, when these messages are sent in, we need to have people monitoring them, and rely on the media or the people to report offending messages individually to police," Somyot said. "I have petitioned the government about this many times. There should be a single gateway in Thailand."
Most commonly, netizens face prosecution for running afoul of some combination of Thailand's criminal defamation law, Computer Crime Act and broadly applied lese majeste laws.
Military tribunals handed down record sentences last month in some of the latest cases involving comments made on Facebook deemed an insult to the monarchy.
But internet freedom and civil rights activists have criticized the plan on the grounds it would threaten privacy and anonymity enjoyed by internet users in Thailand, where online forums and social media are increasingly vibrant with discussions about taboo subjects.
The Computer Crime Act already provides a tough, sweeping means of criminalizing any discussion or message deemed to affect "national security," or more broadly, the "morality of the people."
Violators face up to seven years in prison for each offense.
Arthit, the activist from the Thai Netizen Network, said privacy concerns aside, a single gateway is also a bad idea for Thailand's thriving digital economy in the modern era.
"Once you group all of this traffics into one place, if something goes wrong, the whole system will be broken," he said. "The ICT has previously promoted that Thailand will be a hub for digital economy in the region, but this plan doesn't make sense, because data center businesses need guarantees their services will always be operational, 24 hours a day, 365 days a year."
The principal of "redundancy," under which backup systems stand ready to keep a service running in case of failure would be rendered moot by a single gateway, which would not include any failsafe device.
"No one will dare invest in Thailand," Arthit said.
Police Gen. Somyot however said the precedent was out there for such a system.
"Civilized countries like Singapore, or Middle Eastern nations that have strict regulations about religion, have already switched to using a system that involves a single gateway," he said.
Related stories:
Thai Internet Freedom Threatened by Junta's New Bill, NGO Warns
DTAC Punished For Revealing Junta's Role in Facebook Shutdown
To reach us about this article or another matter, please contact us by e-mail at: [email protected].