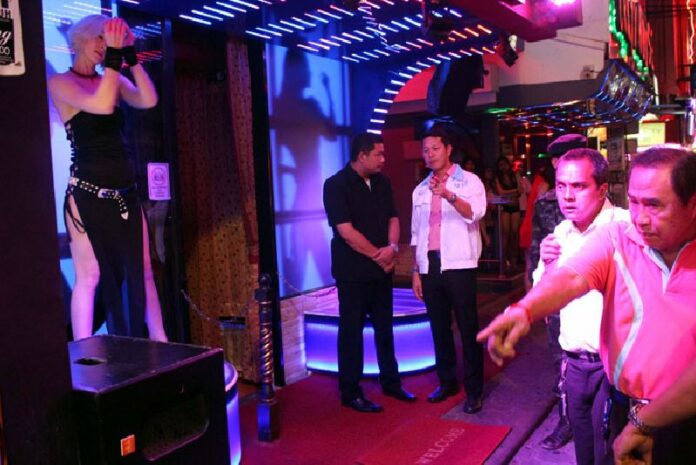 CHONBURI — Thailand's vice city, a known haven of transnational crime syndicates where sex, drugs and money are fluid commodities, isn't going to tolerate any more scofflaws. At least not where its sidewalks are concerned.
A band of Pattaya City officials, policemen and soldiers called upon its infamous Walking Street last night to demand go-go bars, vendors, nightclubs and other businesses stop violating city regulations on use of public space and keep the footpath clear.
There they discovered vendors hawking goods and parked vehicles in the street whose name is derived from its intended purpose: A pedestrian-only stretch reserved for adult entertainment and indulgence.
Among the 20-or-so-strong group was local official Morakot Noohuang, who said business operators along Walking Street have been told to keep within legal boundaries so that members of the public can fully use the public pavement.
More than half of them even said they would comply, Morakot said.
"A majority of business operators agreed to cooperate with us," he said.
An official discusses the importance of complying with municipal regulations on use of public space last night outside the "Sugar Baby Ago-Go' on Pattaya's Walking Street.
He said local authorities will convene a meeting to determine how to punish those that refuse to cooperate. No arrests were made last night, and officials merely confiscated signs and goods that intruded upon the pavement, Morakot added.
The media was invited along last night's show of intent to enforce the law, much as it was earlier this month when officials once again renewed their vows to someday do something about the plague of jet ski operators scamming tourists.
Home to a variety of go-go bars, sex shows and sex workers, Pattaya's Walking Street is a well-known destination of sex tourists from around the world.
Although prostitution and salacious entertainment are outlawed, the authorities largely tolerate their presence, and only make arrests when particular cases gain attention, most often from social media.
A fried food vendor listens to an official explain the importance of complying with municipal regulations on use of public space last night on Pattaya's Walking Street.
Related stories:
30 Pattaya 'Jet Ski Mafia' Warned to End Scam
Soldiers Bust Illegal Sidewalk Bars in Pattaya
Police Close Down 'Oral Sex Club' in Pattaya for Ten Days
Police, Soldiers Raid Pattaya 'Naked Sushi' Restaurant
To reach us about this article or another matter, please contact us by e-mail at: [email protected].