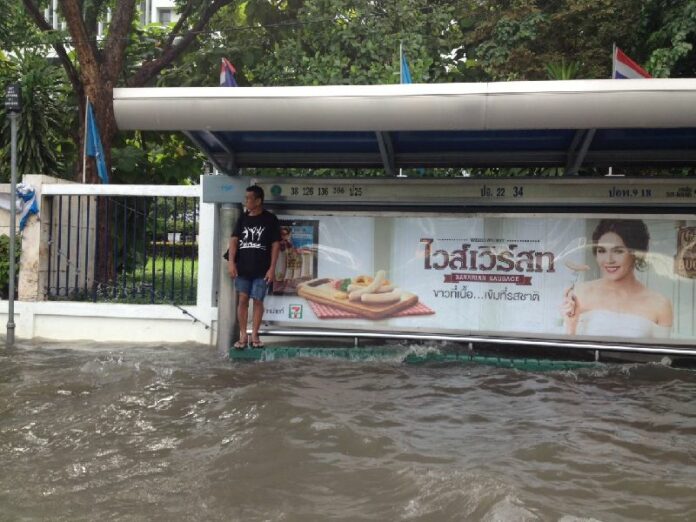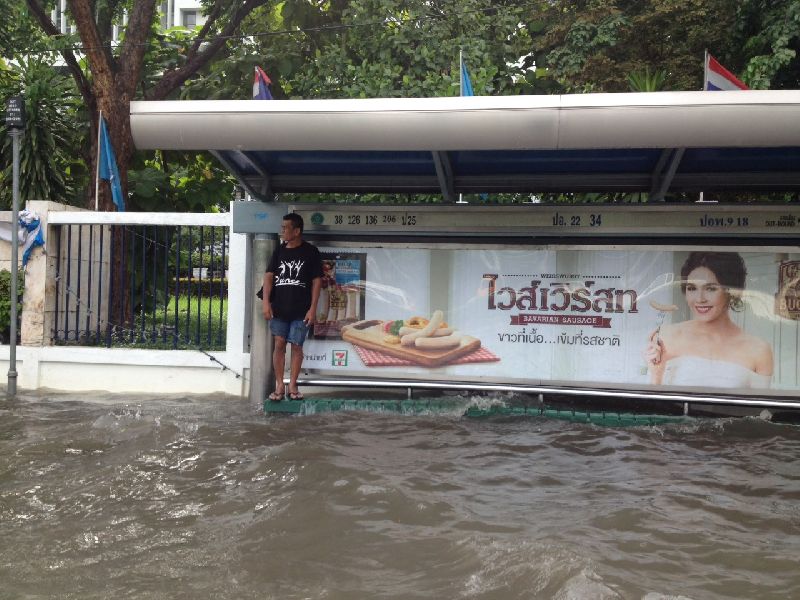 BANGKOK — The storm which brought heavy rain to flood parts of the capital during the weekend may have been downgraded from a Category 4 typhoon but still promises to soak much of Thailand in the days to come.
Tropical Storm Mujigae, which killed nine people in the Philippines and China, has lost much of its fury but still has more rain to drop on Bangkok and the rest of the kingdom north of the gulf, according to the Thai Meteorological Department.
Nearly 200,000 people were evacuated before it made landfall in China yesterday at full typhoon strength, prompting China's Meteorological Center to issue its 22nd red warning of the year yesterday. The typhoon spawned several tornadoes which killed at least nine people with dozens still missing, according to the Associated Press.
In Thailand, fishing boats in Phang Nga stayed ashore this morning under high-wind warnings in the Andaman Sea.
On Sunday heavy rain caused a landslide in western metropolitan Bangkok yesterday when a retaining wall failed at a temple in Nonthaburi.
Satellite image: US National Oceanic and Atmospheric Administration
The intense rain flooded parts of Bangkok and was blamed for road accidents and incidents throughout the kingdom, including a landslide in Nonthaburi. A Nakhon Chai bus crashed yesterday in Ubon Ratchathani province; no deaths were reported.
Coming on the heels of a severe drought, the storm's silver lining was appreciated in Nakhon Ratchasima. Farmers welcomed the downpour as it brought much-needed water to dams and reservoirs. Local irrigation officials in Korat said area dams will stop distributing water to keep reserves for the next dry season.
The Meteorological Department said the storm will further weaken into a shadow of its former ferocity, but will linger on as a low-pressure cell to bring wet times in the north, northeast, central, and eastern parts of Thailand.
Spokeswoman Bensai Keeyapat of the Bangkok Metropolitan Administration said that even though Mujigae has been downgraded, rain is still expected for the next 13 to 16 days but should be less heavy.
Bangkok Gov. Sukhumbhand Paribatra visited flood-prone areas this afternoon, ensuring that his team is ready for more heavy rains to come. He admitted the rain is more intense than last year, causing flood in many areas of the city, especially in front of the Ratchada Criminal Court and Phong Phet market. He said the city was prepared to resolve any flooding issues as they arise.
While he thinks digging more flood tunnels and removing encroached housing from Khlong Lat Phrao will be sustainable solutions, Sukhumbhand said municipal teams are working 24 hours a day and stand ready to deploy water pumps in case of flooding.
A Nakhon Chai Air bus crashed Sunday in Ubon Ratchathani province. No fatalities were reported.
To reach us about this article or another matter, please contact us by e-mail at: [email protected].