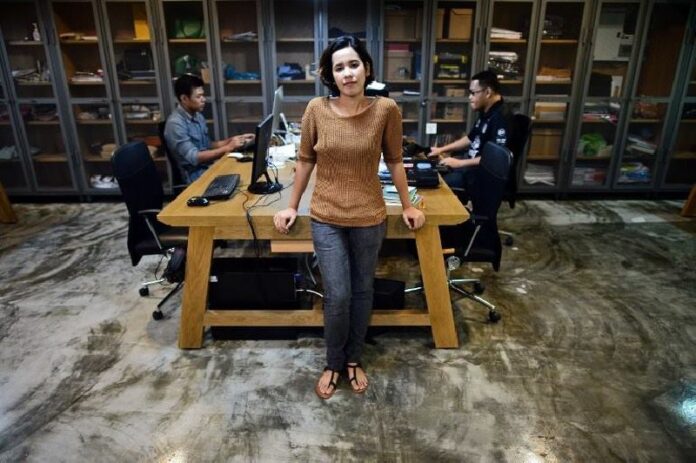 BANGKOK — Unlike other crime reporters who haunt police stations for stories, Mutita Chuachang spends most mornings at prisons, pleading for just 15 minutes with her sources: those accused of defaming the monarchy.
For her dogged commitment to telling these stories, the 33-year-old Prachatai online assistant editor was today awarded the Kate Webb Prize by Agence France-Presse for her dedication to reporting on those accused of lese majeste – insulting the monarchy – a topic most media in Thailand strain to avoid due to its sensitivity.
"Most of the lese majeste prisoners hate reporters, as they feel we are part of the social oppression," Mutita told Khaosod English today. "Fifteen minutes is almost impossible for building trust. That's why I have to visit them all the time."
The AFP prize honors outstanding journalists working under difficult conditions in Asia. Recipients receive a certificate and EUR3,000 in cash (120,000 baht) from the Paris-based news organization.
Mutita was chosen because of her "powerful and persistent reporting," the AFP wrote, especially under the current, challenging climate. Lese majeste cases had been rising for some years prior to Thailand's May 2014 coup d'etat, but since the military seized power, there's been a spike in convictions, according to rights groups.
Numbers are hard to come by as many cases unfold out of public view and without media coverage. iLaw, an advocacy group tracking legal cases involving political offenses in Thailand, reports it was aware of 53 cases between May 22, 2014, and July 31.
In August, sentencing records were broken when military courts sent two people in separate cases to prison for a combined 58 years for comments they wrote on Facebook.
After writing about lese majeste cases for seven years, Mutita said she can't even keep up with all the cases since the coup. She said it's also become more difficult to access those accused or convicted of the crime: Strict rules now only allow them to receive visits from up to 10 approved people.
She said that's bad for her as a reporter and bad for those incarcerated.
"This is the serious problem I have tried to communicate to society, though they might not understand," she said. "But for all these prisoners, the only thing that can help them fight is getting courage from outside."
Mutita Chuachang poses for a photograph in her newsroom at Prachatai online's Bangkok newsroom on Monday. Photo: AFP Kate Webb Prize
Turning Point
Mutita's interest in lese majeste cases started in 2008, four years into her career. Mutita said she was struck by the arrest of Thaksin supporter Darunee Charnchoensilpakul, aka "Da Torpedo," who was accused of royal defamation during a public speech at a Redshirt rally.
To Mutita, it was the first time the lèse majesté law was used to eliminate the political opposition in Thailand's modern era. Darunee trial was conducted in secret, and she is now serving a 15-year prison sentence from that case. To Mutita, the use of the law to convict her made Darunee a new kind of political prisoner.
King Bhumibol, 87, is highly revered in Thailand, where many regard him as a father figure.
Mutita soon found that trying to write fairly about those accused of offending the royal institution invited hostile responses from some readers.
"This issue is indisputable. Anyone who crosses the line and goes into this territory will be labelled as a monster," she said. "There is only black or white."
She said before people judge them, they should understand their roots.
"I want to discover backgrounds of these people, dig deep into what makes them think or behave like they do, and show readers the human sides of them," she said.
There's an advantage to covering what is all but a forbidden topic. Mutita said there's little competition; therefore, she doesn't have to worry about scooped on stories.
But the hardest part is trust. Those accused of the crime are often ostracized and shunned – even by members of their own families – meaning Mutita struggles to build rapport with sources, including lawyers and the suspects themselves.
Gaining access to them at the prisons where they are held is difficult, she said.
"The lese majeste prisoners are always disliked by both other prisoners and officers. They always face severe torture," she said. "There was one time a prisoner himself secretly sent me a letter telling about how he was abused. I passed it to the National Human Rights Commission. They went to inspect the case and were able to protect other prisoners."
The Reluctant Reporter
Mutita didn't always focus her reporting on lese majeste cases; in fact, she wasn't serious about making a career of journalism.
At Thammasat University, she said she preferred to sit in on political science classes rather than those of her major, journalism. She thinks she spent more time in classes she wasn't actually receiving grades for, she said.
In 2004 the fresh graduate from Thammasat's journalism program didn't want to work for a news organization. But that same year saw the birth of Prachatai, with its stated mission of being a "voice for the voiceless." For Mutita, it proved a perfect match.
When she started in 2004, Mutita first focused on covering policy matters, with an emphasis on reflecting voices from those outside the system to call attention to conflict between lower and upper classes.
Blurring Lines
Mutita admitted her proximity to such scorned members of society can make it difficult to maintain her professional objectivity.
Sometimes, she said, she has bought necessities for prisoners who don't get visits from family. At one point she even got involved in helping care of a prisoner's parents.
"My colleague said I went over the line," she said. "But what can I do when my new source was in jail, and his aged parents, who could barely walk, suddenly had no one to take care of them?"
Mutita said organizing a caretaker for them using donation money was a private act.
"In the end … I don't have to be a journalist 24 hours," she said. "I did it in my own name."
Mutita told AFP she was "moved and honored" to receive the award today, saying it comes at a critical time for press freedom in Thailand.
"The important thing is that it draws attention to this difficult time for human rights in Thailand," she told AFP. "When we wrote these stories, we were not thinking about being courageous. We all just felt that it was something we had to do, and my organisation Prachatai was incredibly supportive."
Related stories:
Record Sentences Today For Facebook Lese Majeste Offenses
Man Gets Five Years for Destroying Thai King Portrait
Prayuth: Thai Lese Majeste Suspect Living in Exile 'Not a Thai'
To reach us about this article or another matter, please contact us by e-mail at: [email protected].