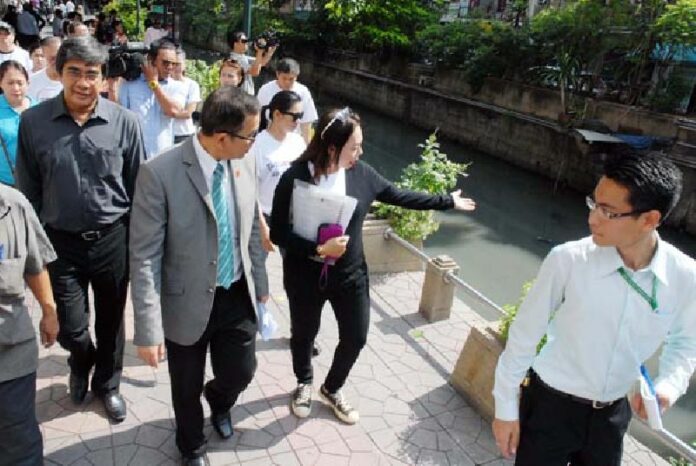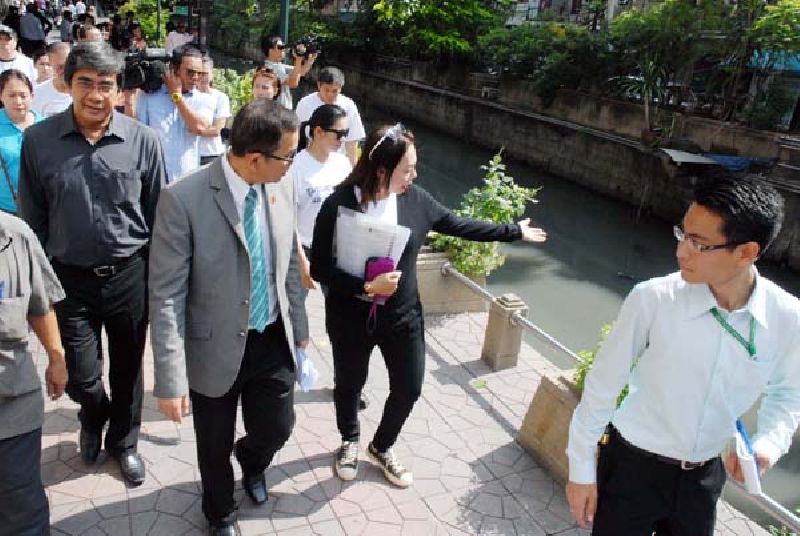 BANGKOK — More than 100 vendors from Bangkok's Saphan Lek market yesterday filed a complaint at the Ministry of the Interior to block the city's bid to remove them.
The vendors appealed for help to stay in the community they've called home for 30 years and accused city hall of forcing their relocation for the financial benefit of a developer with ties to top city officials.
In a copy of the complaint seen by Khaosod English, the vendors alleged the city's Sept. 28 ultimatum, which gave them two weeks to abandon the famous Chinatown market, is an attempt to push them into occupying land developed by an investor linked to city hall and the provincial governor.
---
Vendors Revolt as BMA Moves to Demolish 'Saphan Lek'
---
"We were previously informed by newspaper and online media reports in 2012 that a developer bought the area around Woeng Nakhon Kasem and buildings along Saphan Lek from a prominent family of the Bangkok administration," the statement read.
An adviser to Bangkok Gov. Sukhumbhand Paribatra flatly rejected that claim. The Bangkok Metropolitan Administration said the 30-year-old market is illegally squatting on public land and clogs the flow of water in the canal it sits atop.
Most shops were open as usual Tuesday despite that being city hall's deadline for vendors to quit the market. The city plans to clear out more than 500 houses and stalls erected above Khlong Ong Ang.
For 30 years, Saphan Lek has been a popular market for electronics, toys and games due to its inexpensive prices compared to those found in shopping malls. A maze of vendors sell a wide range of goods and speciality items the market has become known for.
Following the February demolition of the nearby Khlong Thom market, another bustling icon of Chinatown, Saphan Lek became the latest target of the city's clean-up campaign last month.
The maze-like market is known for cheap electronics, toys and games. The BMA said it will demolish the site beginning Tuesday.
Vendors said they became suspicious after leaflets appeared at every stall overnight, just after the city erected a billboard ordering them to leave, but two days before the formal order to vacate arrived. For one, the leaflets claimed to be co-written by sellers from Saphan Lek and a recently redeveloped area at Woeng Nakhon Kasem, known as the old music instrument market.
"Together please move to Boripat Road, and we will ask Bangkok to organize a walking street on the weekend," it read. We shall unite to develop Boripat Road to be our new place to earn a living, replacing the old one which will soon be reclaimed."
The vendors said no one at either site has said they were involved.
Leaflets distributed Sept. 27 urging the community to relocate to a nearby market on Boripat Road. Tenants said they appeared at every stall the morning after a billboard appeared ordering them to move.
Surrounded by her inventory of toys and games, the owner of a shop called Diamonds in Saphan Lek 17 said yesterday the move would be a raw deal.
"The price they offer for rent at Woeng Nakhon Kasem is 10 times more expensive than what we pay here," said the shop owner, who would only identify herself by her nickname Toy. "How can we afford to make a living?"
A shop owner named Yoo, who has led the vendors to petition several government agencies recently, said the covered labyrinth that is Saphan Lek is suited to their wares.
"We are all doing fine selling in our permanent stalls, why would we want to move to a walking street?" she said, declining to give her full name for fear of reprisal. "Our goods are all electronics that can't be touched by rain and sunlight."
Boripat Road
For those who see conspiracy, the road which shares a name with Bangkok's governor is no coincidence.
According to news accounts, including a report in Prachachat, the family of Bangkok Gov. Sukhumphand Paribatra, who spells his family name differently in English, sold 14 rai of land (about 5.5 acres) around Woeng Nakhon Kasem on Boripat Road in June 2012 to real estate developer TCC Land for 4.5 billion baht.
TCC Land, a division of multinational conglomerate TCC Holding Co., Ltd., has not responded to numerous telephone calls and several emails seeking comment yesterday and today. Several people answering the phone said they were not familiar with the issue and would refer the matter to a company representative. A telephone number listed for press inquiries was not answered.
On Friday, the vendors said they will present evidence supporting their accusations at a public discussion hosted by the National Human Rights Commission.
Maj. Gen. Wichai Sangprapai, an adviser to Gov. Sukhumbhand, said public policy – not special interest – is behind the move to demolish the market.
"I have reorganized 37 spots around the city, not just here," he said. "It's just their excuse."
He added that TCC Land is not interested in the vendors.
"And in fact they don't want these vendors, as their market is already fully rented out."
Wichai will also join the Friday panel, where he plans to present the legal case for removing the vendors and the market. He said it's about enforcing the law and respecting the rights of others, as the canal is a public area and national historic site.
Klong Ong Ang, a historic canal above which the Saphan Lek market was built, was registered as a historic site by the Fine Arts Department in 1976.
After the military government made it a policy to reclaim public space last year, the Bangkok Metropolitan Administration has targeted many iconic street markets for intruding onto sidewalks and roads.
Some welcome it as much-needed reorganization to the city's chaos and miserable traffic; others complain it's sanitizing the capital's appeal or another kind of land-grab.
The charm Bangkok's street food and market scenes is often cited in polls placing it as a top tourist destination.
Related stories:
Vendors Revolt as BMA Moves to Demolish 'Saphan Lek'
To reach us about this article or another matter, please contact us by e-mail at: [email protected].