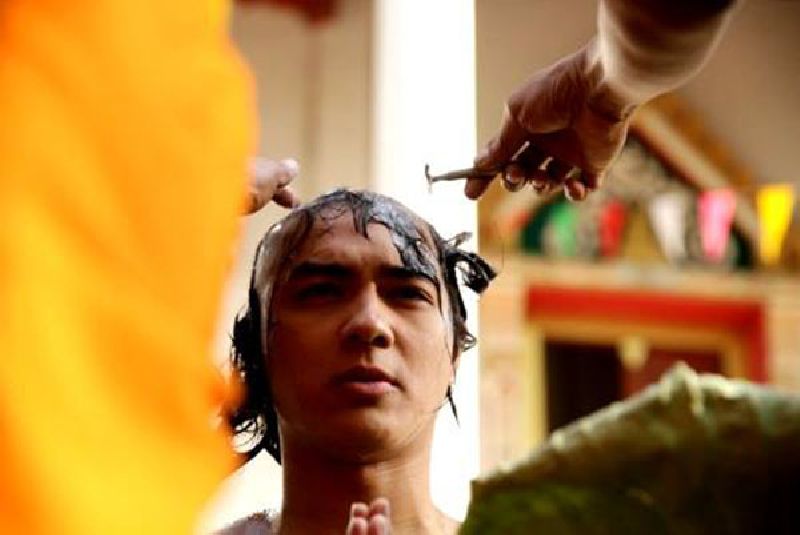 BANGKOK — With a slightly different name and two minutes shorter, a movie about a misbehaving monk banned days before its release proved controversy can translate into ticket sales.
Arpat – the movie formerly known as Arbat – brought in 15.72 million baht in sales during its first four days since the ban was lifted Friday, beating Pan (10.4 million) and May Nhai, or May Who? (7.9 million baht).
Complaints from Buddhist hardliners earlier this month over scenes of a novice monk behaving inappropriately prompted the Film Censorship Board to ban Arbat only two days before its premiere. The film won permission to eventually open a day later than planned after the studio cut several scenes and changed its from Arbat to Arpat, which is the same word but spelled in Pali.
The name refers to a violation of a monk's vows.
The board voted 5-0 on Friday to rescind the ban after Sahamongkol International Film cut scenes considered defamatory to Buddhism, including a novice wearing shoes while stepping on a monk's seat, pulling a girl by the waist into a room, kissing a girl, drinking alcohol and placing a Buddha image on the floor. Another scene of a monk being murdered was also reportedly removed.
The movie opened Friday night with an +18 rating.
The ban itself seemed to invite more controversy than the now-deleted scenes. Many comments online panned the decision, and 100,000 people signed an online petition calling for the movie to be shown uncensored.
The producer insisted the content of the film remains unchanged. Director Kanittha Kwanyoo said she felt sorry to cut some scenes but was pleased to see it released.
Related stories:
Studio to Recut Movie Banned for 'Defaming Buddhism'
Horror Film May 'Destroy' Buddhism, Activists Warn