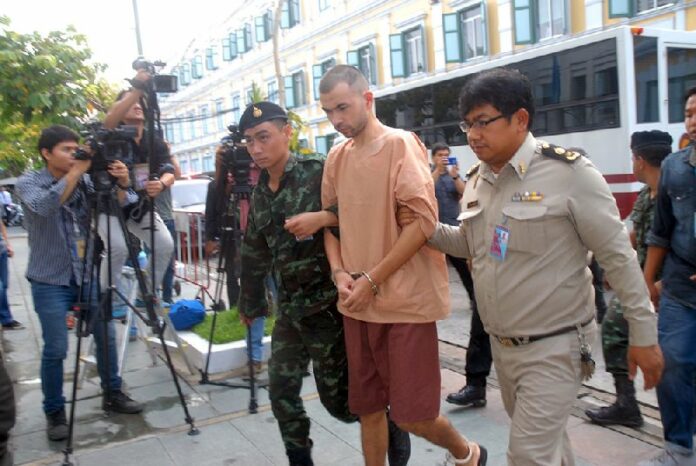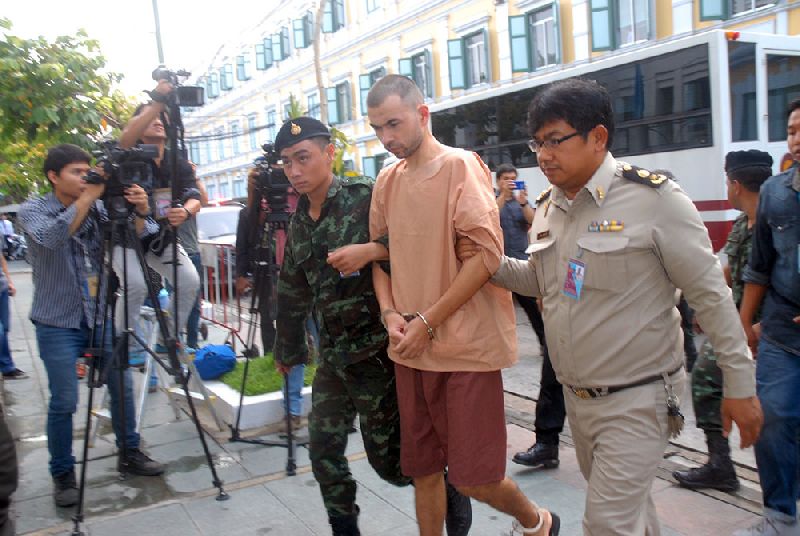 BANGKOK — Thai police are not pursuing terrorism charges against two men accused of staging a deadly bomb attack in Bangkok two months ago, a police commander confirmed today.
Despite the scale of the attack, which killed 20 people of six nationalities and is considered the worst attack of its kind to strike Bangkok in living memory, the suspects will only be tried on charges of premeditated murder and explosives-related charges, said Sriwarah Siripramnakul, chief of Bangkok metro police.
"We are not charging the suspects in this case with terrorism," police Lt. Gen. Sriwarah said.
Mohammed Bilal and Yusufu Mieraili, who hold Turkish and Chinese passports, respectively, will stand trial in a military court for their alleged role in the bombing of Bangkok's Erawan Shrine on Aug. 17. According to police, Bilal planted the bomb at the popular place of worship and Mieraili detonated the device after Bilal left the blast area.
Bilal was arrested in an apartment in Nong Chok district on Aug. 29, reportedly along with a large cache of bomb-making materials, while Mieraili was taken into custody near Thai-Cambodian border on Sept. 1.
The two men have been held without bail at 11th Infantry Regiment barracks, which has been converted into a special prison for the bombing suspects, since Sept. 15. Police have yet to send their cases to the prosecutor.
Bombing suspect Yusufu Mieraili is led today into a military court in Bangkok
Under Thai law, remand can be extended to keep suspects in custody up to seven times – which translates into 84 days – before the prosecutor either brings charges against them in court or drops the case.
Today the martial court ordered Bilal and Mieraili to be remanded for the fifth time, accepting the police explanation that investigators have yet to finalize their cases against the defendants. Police said they still need to interrogate some witnesses and are awaiting lab results of some forensic evidence.
Sriwarah said he's confident that police have airtight cases against the two defendants.
"If we aren't confident, the court wouldn't have granted arrest warrants for them in the first place," Sriwarah told reporters today. "We have clear evidence: documents, material, witnesses."
A total of 17 arrest warrants have been issued in connection with the Aug. 17 bomb attack, many of which were for unidentified suspects.
National police chief Chakthip Chaijinda said today Bilal and Mieraili are the only two of those suspects to have been arrested so far. The trail of those on the run, he said, has gone cold.
"Whether we find additional suspects, let me say that the police are doing our best. We are always doing our best. But right now, there are no other clues that support … our effort to find the suspects still on the run, both inside and outside the country," Gen. Chakthip said.
Related stories:
Bombing Suspect Led Through 2-Day 'Re-enactment' (PHOTOS)
Police Return to 'Karadag' as Bangkok Bomber
Police Link Bomb Attack to Uighurs, Deep South and Thai Politics