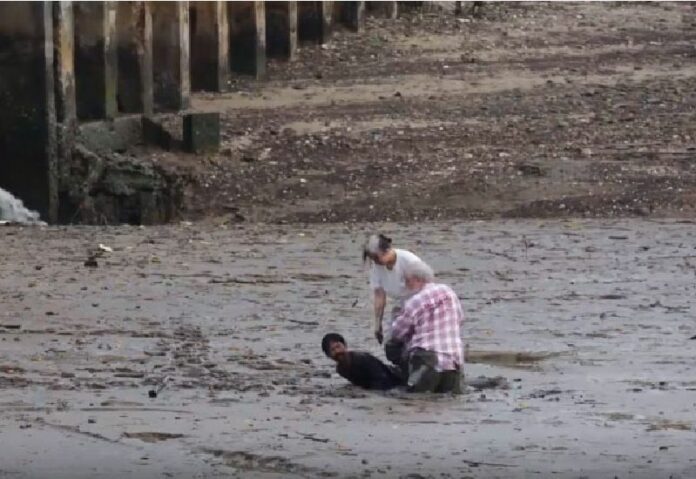 BANGKOK — The humble fisherman-turned-hero who shot to national fame during the weekend for rescuing mud-mired tourists is being flown to Bangkok this evening for recognition of his deeds.
Chad Ubonchinda, a 44-year-old fisherman from the southern province of Krabi, turned into an overnight hero after he was caught on film rescuing a foreign couple hopelessly stuck in a quagmire by lying down and letting them walk out across his back.
He became an immediate object of online praise, particularly as he was seen shuffling off without asking for any compensation. He said the deed was its own reward – but admitted his back has yet to recover from the mild trampling.
"I didn't think too much when I saw they were in trouble," Chad said Saturday. "The only thing I think is I already gained the merit from saving them, and I don't want anything back."
Video of the Friday morning incident became an instant hit after it was posted later in the day by videographer Theerasak Saksritawee.
Chad said he did not know anyone was watching when he stopped his boat to save the elderly couple, who were there to take photos. Though he could not communicate with them, Chad felt he could help because he was younger and more familiar with navigating such a muddy morass.
He first quickly moved their camera to a safe place and then came back to lift the couple. As he was unable to lift them, he immediately got down on the ground and let them crawl up onto his back and walk out.
The Norwegian couple, Arild Haben and Guo YaXiang, later found their way to Chad's home on Saturday to express their gratitude. The couple along with Krabi Gov. Pinit Boonlert presented him flowers and some money as a reward. They also promised to help him get a new boat.
Chad at his home today in Krabi
More importantly, Chad said, officials need to urgently place a warning sign at the spot where they couple becamse stuck, as he was concerned another tourist might become trapped in the same spot.
Officials have been lining up to bask in Chad's acclaim, but the fisherman said he's been a bit overwhelmed by the attention and hasn't had time to go fishing.
Junta spokesman Maj. Gen. Sansern Kaewkamnerd yesterday said Prime Minister Gen. Prayuth Chan-ocha applauded Chad's generosity and described him as a role model.
"The prime minister said this reflects Thai identity. Thai people are generous and Thailand is also known as the Land of Smiles," Sansern said.