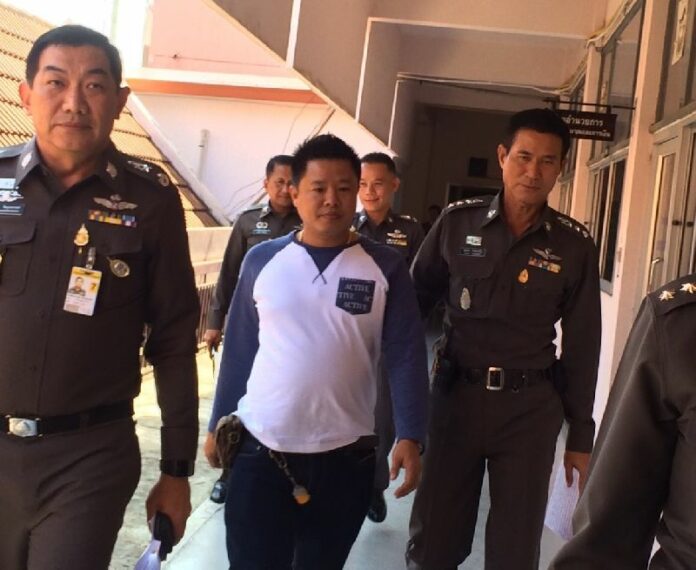 By Teeranai Charuvastra
Staff Reporter
CHIANG MAI — A businessman in Chiang Mai province was arrested today for firing a handgun to threaten other motorists from his BMW on Saturday night – an incident captured on video and posted online.
Niwat Wicharn, 40, explained to police today that at the time he was drunk from "two jugs of beer" and worried about 2 million baht he was carrying when he fired four shots into the air to warn off another car that was tailgating him.
The incident took place, Niwat said, while his wife was driving them home from dinner and he noticed the car behind kept approaching close flashing its headlights – behavior Niwat said eventually caused him to snap.
"It angered me, and I was drunk because I had two jugs of beer," said Niwat, who owns a construction firm.
Video of the encounter, likely filmed from the other vehicle's dashboard cam, was uploaded to the internet where it was widely shared and commented upon.
Police officers said they used the video to identify Niwat's license plate and track him down at home. Niwat was arrested at his home Monday and later taken to the San Kamphaeng Police Station for questioning.
Niwat also explained he was carrying 2 million baht in cash in the car at the time, so he was afraid the tailgating car might have intended to rob him, and he discharged his weapon four times as "warning shots" to deter them.
Niwat was later released on his own recognizance and allowed to return home. Police have charged him with carrying and firing a gun in public area without a license or a good reason.
Correction: An earlier version of this story incorrectly suggested the man had been arrested or placed in jail. Apparently that was not the case, as he was charged, photographed for the media and then allowed to return home.
Related stories: