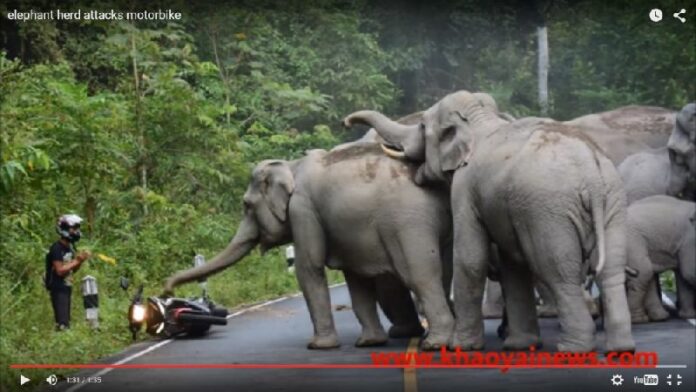 NAKHON RATCHASIMA — The man who who captured a tense pachyderm-on-motorcyclist encounter on video said Khao Yai National Park should ban big bikes as they are responsible for upsetting the park's more important residents.
After his video of a cornered biker escaping death-by-angry-elephant with a wai and a prayer went viral, cameraman Andy Merk said a group of four riders on large, loud motorcycles were responsible for irritating the elephants, which nearly took out their frustration on another unlucky rider who just happened to come along on a smaller motorcycle.
"Big bikes are a serious problem in Khao Yai National Park; they are there for racing, not for nature," Merk wrote on his Khao Yai News website today. "No other park in Thailand allows big bikes in, and in other countries they are banned as well."
In the video he posted Sunday, a herd of angry elephants chases after a man on a small motorcycle. The man ditches the bike and stands on the side of the road, paying respect with a wai the same way Thais reflexively perform for someone older or of higher status. The elephants eventually left without touching either the man or his bike.
Merk said he was on his way back from photographing insects in the park when he spotted the incident. The Khao Yai News owner said officers were trying to move eight elephants out of the road and back into the forest, as they were blocking traffic. Suddenly four large motorcycles passed at high speed, upsetting the wild elephants.
Park chief Kanchit Srinoppawan stressed that tourists should drive carefully along the road which runs through the park.
A series of elephant-related incidents, including several cars getting stomped, happened in January and February. Park officials considered closing or limiting access to the road but ultimately shortened park hours to close earlier to avoid encounters between tourists and animals going out to feed at night. Since Feb. 5, the park's closing time has moved up to 6pm from 9pm.
Correction: An earlier version of this story misstated the park operating hours. Since February, the park has closed at 6pm instead of 9pm.
Related stories:
Tourists Urged to Respect Park Rules Protecting Elephants
In Thailand, Unruly Elephants Threaten Traffic During Mating Season