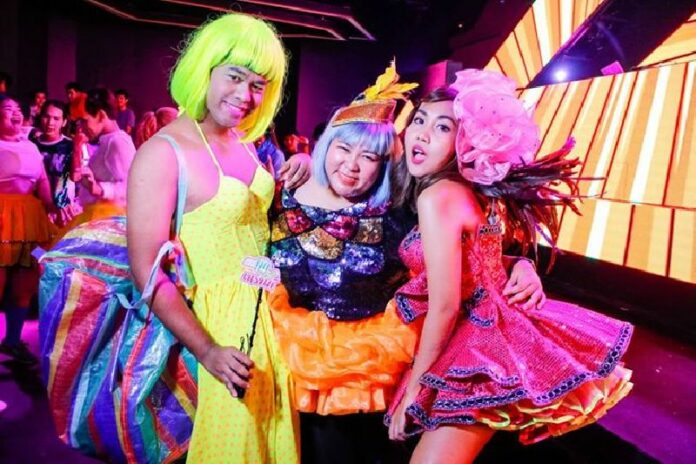 In a city that loves to party and has yet to meet a festival it doesn't like, Halloween has become a thing. Now what are you going to do about it?
Halloween is Saturday. You're going to a party to pretend you're someone or something else, but there's not much to work with in your closet. Before you give up and go as yet another sexy nurse, here are some suggestions from costume sellers and a beloved designer. As a rule, imagination is more important than what you wear.
Forget about elaborate costumes and get creative this year. While your recycled cosplay costumes can still be pulled out for Halloween, costume sellers and fashion designer suggest getting creative with make-up and accessories.
"This year people are spending less on costumes and more on accessories," said Tawan Khonsuai, the 36-year-old owner of online costume shop SexyGirlyShop.com. Instead of buying a brand new costume, Halloween party-goers are likely to pair up basic pants or shirts in red, black and white, then add accessories like devil's horns or a robe to complete the look.
The name of Tawan's shop is pretty apt, selling the usual sexed-up versions of fantasy figures (pirates, red riding hoods) and of course professions (sexy teachers, sexy cops, sexy grief counselors).
Yes, there are outfits for guys, but given how many men's costumes begin and end with "neon afro and wacky sunglasses," why bother?
So what's Bangkok buying?
Tawan says scary movies have made vampire wedding dresses popular with women. Still going strong since 1995, the "Scream" mask and black robe live on as an easy choice for her clients. Thitiporn Pusonthonthun, who sells costumes online at Applekoko.com, says the witch and vampire looks remain immortal favorites and top-sellers. Others may choose to repurpose their existing cosplay costumes and add makeup and extra accessories to turn them into ghost versions of their characters.
Designer Polpat Asavaprapha of Asava and ASV by Asava at Siam Paragon and EmQuartier says revelers need to get serious about their fun costumes.
"Don't wait until the last minute; do your homework," Polpat says. "If you don't prepare well enough, you'll end up looking ridiculous."
Although he is too busy with a newly opened restaurant to attend the parties this year, Polpat said he dressed up a friend as Mini Mouse. He created a sophisticated look by putting her in a red see-through skirt topped with a corset and bob hairdo. Instead of buying a ready-made costume, he suggests Halloweeners amp up the "surprising and unexpected look" with a lot of creativity.
As Halloween in Bangkok has grown from nothing to a big thing in recent years, it's time to move past the fishnets and whiteface.
Some women might aim for the sexy look, but Tawan said this year the trend is leaning less on provocative. Instead localized costumes are on the rise such as Nang Tani, a young seductress who haunts wild banana trees. Then there's Kluai Tani, usually dressed in green traditional costume.
But if you're set on the sexy hooker look, Polpat cautions against resorting to fishnets and a short skirt. Instead, add in a fun factor by slipping on a garter belt and apply a lot of make-up.
Polpat stresses that Halloween is about being unique rather than going with the norm. Whether dressing up like one of the Flintstones or a princess in a fairy tale, he advises the fashion forward to use style tips from Vogue, and consider investing a little more in fashion items and materials so you still look elegant.