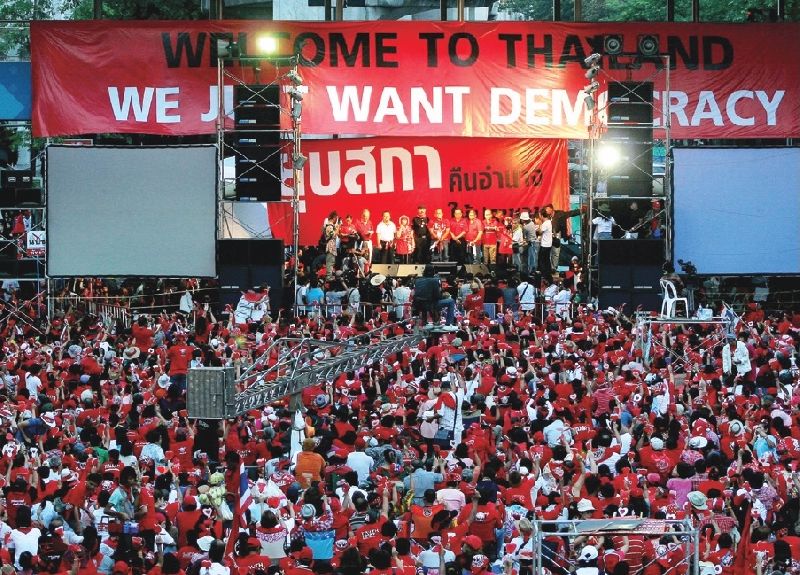 By Teeranai Charuvastra
Staff Reporter
BANGKOK — The ruling military junta warned that Redshirt leaders will be held responsible if their supporters go ahead with a plan to wear red shirts simultaneously all across the country Sunday.
Deputy junta chairman Pravit Wongsuwan issued the warning this morning, referring to calls made by Redshirt activists on social media to wear red on Nov. 1 as a gesture to support former Prime Minister Yingluck Shinawatra – despite Redshirt leaders have already denied any involvement in the campaign.
"If the mass wearing of red shirts does take place, those who do it and their leaders will be held responsible, because there are laws that can prosecute this kind of action," said Gen. Pravit, who also serves as Minister of Defense. "I insist that anyone can wear red, because today there is no [political] division based on different colors anymore, but it doesn't mean that they can wear red to band together to do something."
The campaign, which seemed to surface among Redshirt supporters on social media last week, urged Redshirts across the nation to show support for former PM Yingluck, who is currently facing a court trial on allegations of corruption in her administration.
Political activities and protests of any kind have been banned since the military junta seized power from the Redshirt-backed government in May 2014. Redshirt leaders and politicians have also kept a low profile since the coup, largely to comply with the junta's ban on political activities.
---
Read more: the Yellowshirts and Redshirts
---
Some of those leaders were quick to clarify to the press that they had nothing to do with the ongoing campaign on social media to wear red on Nov. 1.
"The UDD didn't arrange it, and I don't know who is arranging it," Weng Tojirakarn, a leader of the United Front of Democracy Against Dictatorship, or UDD, an umbrella group of the Redshirt movement, said on Saturday. "But it's probably people who are frustrated by the [legal cases against] Ms. Yingluck."
He also urged the junta to relax.
"The more the government warns about this, the more people will rise up and wear red. And I don't understand why it's a crime to wear red? It's what they wear in daily life. They don't wear it for any gathering or rally. I'd like to tell the government that this matter is about freedom and rights of the people."
UDD chairman Jatuporn Prompan suggested that it was in fact opponents of Redshirts who created the campaign to lure Redshirts into an act of provocation that could be used as the grounds to file more charges against Yingluck.
"I insist that the campaign is not arranged by the UDD. It was arranged by opponents of Ms. Yingluck, who want to use Redshirts as bait," Jatuporn said Saturday.
"It's a trap," Jatuporn told Khaosod. "Redshirts can love and care for Ms. Yingluck, but don't be dumb. To love someone, you have to be rational, and avoid becoming a burden for the person you love. Otherwise, it would just lead to problem and disaster for the person you love, because they are waiting to seize on this kind of thing to bully the former prime minister."
For much of the past decade, political factions in Thailand have been divided into two camps, the Yellowshirts and the Redshirts; the name refers to color of the shirts they don at protests and rallies to distinguish themselves for their rivals.
Yellowshirts are dedicated to removing former Prime Minister Thaksin Shinawatra and his influence from politics, while Redshirts are staunch supporters of Thaksin and his allies and proxies, which include Yingluck – Thaksin's younger sister – who served as prime minister from 2011 to 2014.
Following months of anti-government protests organized by groups affiliated with the Yellowshirts, the military intervened and staged a coup against the Yingluck administration on May 22, 2014. The junta subsequently banned all form of protest. It also set out on what it called an effort to "end color politics" and restore reconciliation in Thailand.
However, Redshirt activists have complained its policies are unevenly applied to target only their movement.
Related news:
Chiang Mai Army Hunts Down 'Red Buffalo' Shirts
Soldiers Confiscate 'Thaksin Strawberry Jam'
Junta Nixes Redshirt News Conference
To reach us about this article or another matter, please contact us by e-mail at: [email protected].
Follow Khaosod English on
and
Twitter
for news, politics and more from Thailand.