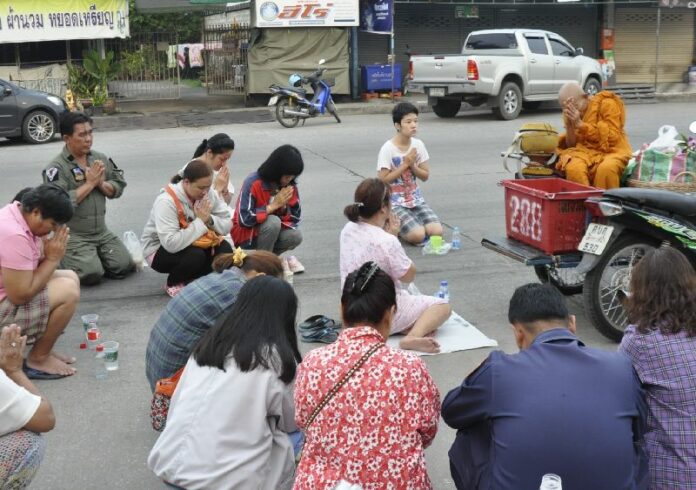 BANGKOK — For the first time, alcohol sales have been forbidden today on the last day of Buddhist Lent, according to the Department of Disease Control.
Wan Ok Phansa joins the four other major Buddhist holidays which for years have prohibited the sale of alcohol under the 2008 Alcohol Control Act: Makha Bucha, Visakha Bucha, Asanha Bucha, and Wan Khao Phansa, the first day of Buddhist lent.
A law signed by Prime Minister Prayuth Chan-ocha in February added the last day of Buddhist Lent, which normally is the full moon of the 11th lunar month, to the list. The amendment also removed an exception for hotels, yet kept intact that granted to airport duty free shops.
---
Thailand Back to the Booze Ban Future
---
Those who violate the law face six months imprisonment or a 10,000 baht fine, said Asadang Ruayajin, deputy permanent secretary of the Department of Disease Control.
Buddhist Lent is recognized for three months in Theravada Buddhism which usually lasts from July to October. During the time, monks are supposed to remain in one certain place, while many Buddhists abstain from drinking and smoking. And for those who did, today was usually the first day they started drinking again.
The change comes amid a series of new restrictions on the sale and availability of alcohol since the 2014 coup d'etat. Since then, the usually lax enforcement of dry holidays has become more stringently enforced.
On Friday a vaguely worded, nationwide ban on the sale of alcohol "near" schools was re-authorized after being enacted by fiat in July.
Another recently introduced regulation banned alcohol producers from advertising their products with certain language, such as promises of "success in social or sexual life." Other prohibited items include remarks that lead to "degradation of the national culture" or "division or loss of unity among the people."
Related stories:
Thailand Back to the Booze Ban Future
Anyone Posting Booze Pics Will be Prosecuted, Anti-Booze Official Says
2 Bars Closed Down Under Junta's Sweeping Booze Ban
Five Chiang Mai Cops Transferred Over Illegal Bars
Booze Ban to be Arbitrarily Enforced During 6-month 'Study'