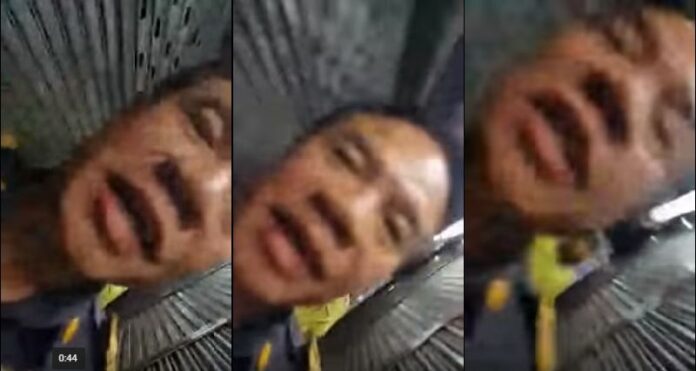 BANGKOK — A top city official today said he has advised the district chief of Phra Nakhon to sue the man who uploaded a video clip of a recent confrontation to the internet.
Responding to a viral clip filmed during the demolition of Saphan Lek in which a municipal enforcer threatened to have a vendor summoned by the junta for "attitude adjustment," an adviser to Bangkok Gov. Sukhumbhand Paribatra said today the clip was edited down to defame the district chief and municipal enforcer, or tessakit, seen in the clip.
---
Bangkok 'Tessakit' Threatens to Attitude-Adjust 'Smart Ass' Citizen
---
Wichai said he had advised District Chief Somchai Tripittayakul to file a lawsuit at the Technology Crime Suppression Division against the cameraman.
The video posted yesterday showed a testy exchange between the officials and the impertinent vendor. The fight started when the vendor commented it was the first time in his 30 years there that he'd ever seen the district chief walking around.
"So, you are fortunate?" asked the chief.
"No, I am not fortunate. But it is fortunate for your feet to be walking here!", answered the cameraman who also posted the clip on his Facebook account Fortyfive Bikershop.
The chief was angry and told the tessakit to take the man's photo. The tessakit also asked for his full name and ID card. When the man refused, the angry tessakit threatened to send soldiers to bring him in for the kind of attitude adjustment session that has become customary following the May 2014 coup d'etat.
Wichai said the officers appeared in the clip went to inspect the demolition site every day since it began Oct. 20. He said the attitude adjustment mentioned in that argument actually referred only to a friendly chat to increase understanding, so they could provide suitable help.
Phra Nakhon District Chief Somchai said he was not available to answer questions today while the tessakit, Wasan Boonmuenwai, declined to answer questions when reached for comment.
The mood at Saphan Lek was tense again this morning as dissatisfied vendors shouted at the officers from the Metropolitan Electricity Authority who came to cut off the power.
On Oct. 20, the Bangkok Metropolitan Administration started clearing the decades-old Saphan Lek market, which was illegally built over Khlong Ong Ang on the western edge of Chinatown.
Authorities said after 10 days, they had removed 169 of 500 stalls from the area. The demolition is expected to finish Nov.15.
Related stories:
Bangkok 'Tessakit' Threatens to Attitude-Adjust 'Smart Ass' Citizen
Demolition Day: Dismantling of Saphan Lek Begins
One-Year Reprieve Sought for Saphan Lek Market
City Hall Denies Colluding With Developer to Demolish Saphan Lek
Vendors Revolt as BMA Moves to Demolish 'Saphan Lek'