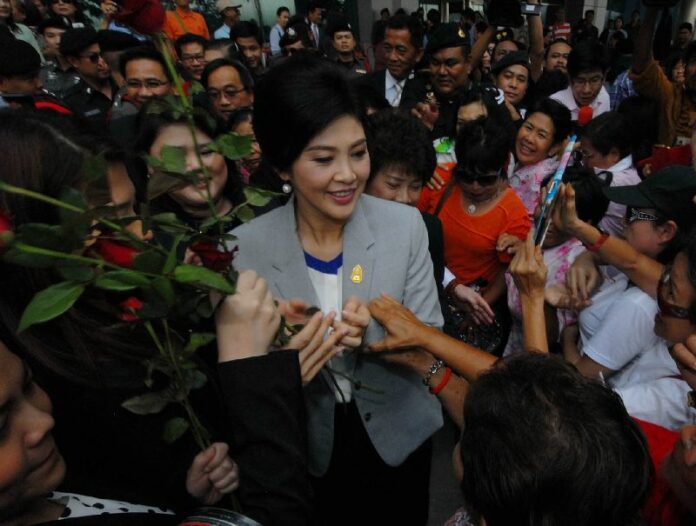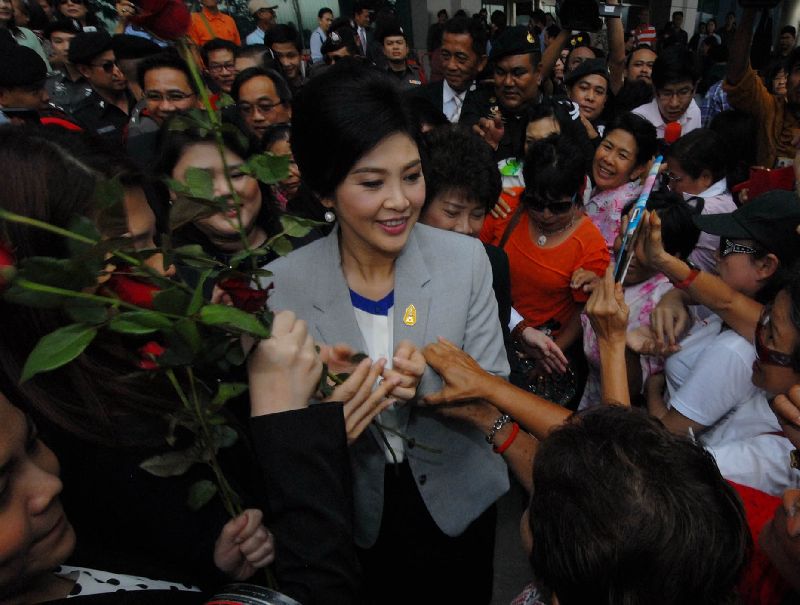 BANGKOK — It will be November 2016 before the last witness testifies in the malfeasance trial of former Prime Minister Yingluck Shinawatra over her government's subsidy for rice farmers, according to the details of an agreement reached today between the prosecution and defense.
Yingluck, who was at the Supreme Court today with her attorney to settle on a list of 43 witnesses who will be called to testify during the 11-month trial, plans to be present on each day of testimony.
"After that, Yingluck will deliver a closing statement of the case, and a judgment date will be appointed," her lawyer, Norawit Lalang, said after emerging from the court today. "At this hour, we have to do our best. We cannot be worried about anything. We will prove that the scheme did not cause damage to the country, as many sides have alleged."
Yingluck, who led the government from 2011 to 2014, is facing trial under the Supreme Court's Criminal Division for Holders of Political Office on charge of negligence. Prosecutors accused her of causing billions of baht in damage to the state through a corruption-plagued rice price subsidy policy overseen by her government.
Under the subsidy program – a key policy of her administration – the government bought rice from farmers at above-market prices but then struggled resell it on the international market, accumulating stockpiles and resulting in huge financial loses.
According to the National Anti-Corruption Commission, the scheme was riddled with mismanagement and corruption that cost the country more than 500 billion baht in damages.
If guilty, she could face up to 10 years in prison.
The commission filed the lawsuit against Yingluck after her government was toppled by the military in the May 2014 coup d'etat. Apart from the lawsuit, the commission also successfully got Yingluck impeached and banned from politics for five years.
Read: Junta's Legislature Votes Overwhelmingly to Impeach Former PM Yingluck 
Yingluck and her supporters, known as the Redshirts, argue that the legal action taken against her is politically driven.
Around 100 Redshirts showed up at the court today to show their support for Yingluck. The former PM thanked them for their support, but urged them to comply with orders issued by the ruling military junta.
"I'd like to thank everyone who sends their moral support to me," Yingluck said. "However, I'd like to ask them to uphold orders of the NCPO [National Council for Peace and Order] so that there is stability, because I also want to see peace in the country."
She declined to answer questions about a campaign by some Redshirts on social media calling for her supporters to wear red shirts in solidarity across the country on Sunday. Other Redshirt leaders have disavowed the campaign and government officials have threatened prosecution of any Redshirts who participate by wearing a red T-shirt.
Related stories: