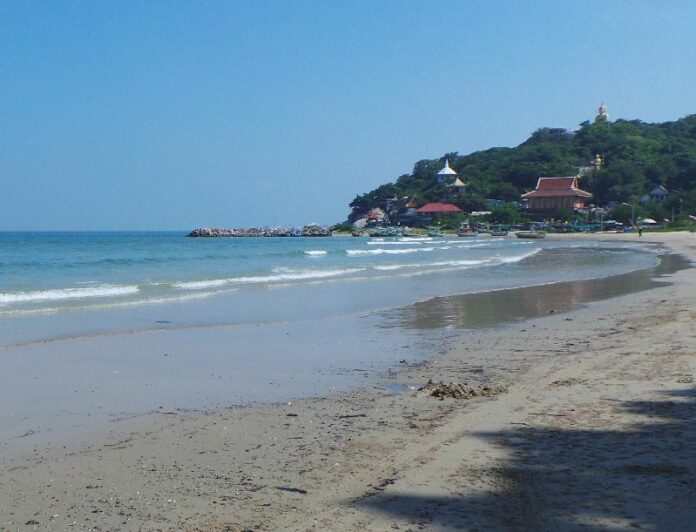 HUA HIN — Seven days after an oil slick washed up on the beaches of Prachuap Kiri Khan province, authorities have yet to identify anyone behind the spill.
Gov. Thawee Narisirkul told reporters today officials are still working to find out who leaked the oil on Oct. 27, which blackened a number of beaches along 10 kilometers of coast, including the popular resort town of Hua Hin.
The governor said his office has already filed criminal charges against the unidentified ship, and officials are gathering evidence about the damage caused by the oil spill from local hotels, resorts and restaurants for further criminal and civil action.
Workers clean up Hua Hin beach on Oct. 30, 2015
"This incident damaged the tourism sector," Thawee said. "We have to take legal action to make an example in order to prevent this kind of incident from happening again in the future."
Satellite images showed the 11sqm oil slick originated from a vessel or vessels near the mouths of the Mae Klong and Tha Chin rivers between Hua Hin and Bangkok. The images ruled out pipelines or platforms as the source but were too inconclusive to pin down which ship leaked the oil.
Local authorities responded by organizing a cleanup operation along the beach and declaring it open for business three days later. Thawee said today that while some tar remains on the shore, it poses no health hazard.
"It's not dangerous," Thawee said. "But it will stick to your body on contact, and it will be hard to wash it off."
Pinsak Surasawadee, head of marine resources conservation, said his department is working with other agencies to determine the extent of ecological damage. Whether the effects will be long or short term depends on factors such as how fast the cleanup operation went, and where the oil slick hit, Pansak said.
"If the cleaning was fast, and if there's no additional oil residue, within a few weeks it'll be fine," he said by telephone today. "The sea is also more dynamic than a mangrove forest. The latter is very vulnerable. If the oil covers it for too long, the plants will die."
Asked whether it's safe for humans to swim off Hua Hin, Pinsak was circumspect.
"Speaking as a bureaucrat, of course I have to say it's safe, in order to raise confidence," he said. "But speaking as a scientist, we need to measure it first, to be sure. … However, I believe that they have completely cleaned it in this case."
A receptionist at Baan Kang Mung hotel on Hua Hin Beach told Khaosod English by telephone that none of the hotel guests expressed any concern about the recent oil leak.
Related news:
Lawsuit Threatened Over Hua Hin Oil Spill (Photos)
To reach us about this article or another matter, please contact us by e-mail at: [email protected].
Follow Khaosod English on
and
Twitter
for news, politics and more from Thailand.