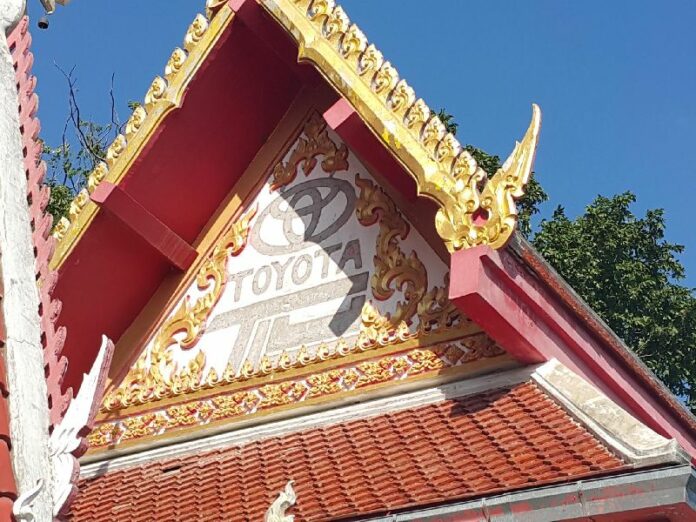 LOPBURI — A Toyota logo at a cemetery in Lopburi province will be removed after it outraged a number of Buddhists online who thought it was affixed to a famous temple in Kanchanaburi province.
As it later turned out, the offending logo was not on Kanchanaburi's Wat Wang Wiwekaram, as alleged in a viral post, but in fact some 400 kilometers away in Lopburi at a cemetery in the compound of Wat Takra Thong.
Toyota Motors Thailand today said it would remove the logo to defuse the outrage expressed by some Buddhists on social media, explaining it was placed on the building because it overlooks the tombs of a family with a historical connection to Toyota.
"It is located at the edge of the temple compound, which was not an area used by monks for religious services," the statement said. Toyota said the family buried in view of the logo had once founded a local distribution company for the Japanese automaker.
Efforts to chip away the logo were already underway when a reporter visited the temple this afternoon.
Toyota will commission new art for the building, according to local official Bamrung Srilachai.
"The representative of the company said they are preparing to carve Buddha figures or kanok lines [traditional drawings]," Bamrung said.
The allegation that Toyota desecrated the famous Kanchanaburi temple appears to have originated from the Facebook account of Tan Rasana.
In a post set to public-view on Tuesday morning, Tan posted that Toyota chairman Sumon Sutheewong ordered the logo emblazoned at Wat Wang Wiwekaram.
"This amounts to a corruption and grave disrespect of Buddhism," Tan wrote. The post soon went viral on the internet, drawing condemnation from some Buddhists.
It didn't take long, however, for the administrators at Wat Wang Wiwekaram to clarify that there was no such logo there. As of publication time, Tan had yet to remove or alter his post, which was shared more than 3,000 times.
To reach us about this article or another matter, please contact us by e-mail at: [email protected].
Follow Khaosod English on
and
Twitter
for news, politics and more from Thailand.