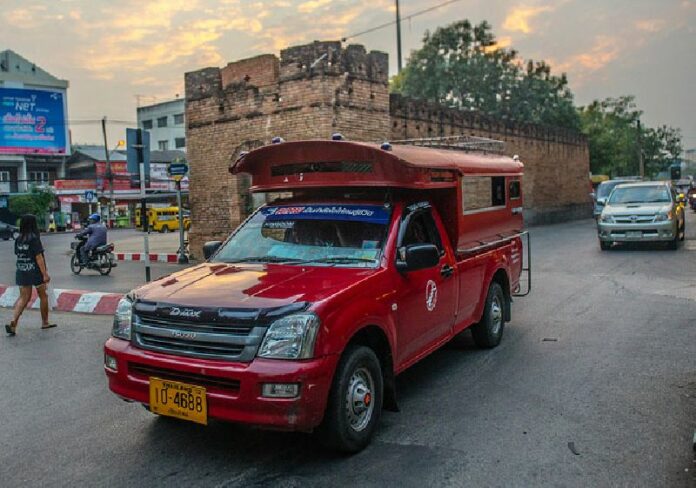 CHIANG MAI — A Japanese man was allegedly assaulted Tuesday by a driver of one of the red songtaew which circulate through Chiang Mai, and police said they are searching for his attacker.
Police were alerted to the incident through social media when someone posted a photo of what looked like a local driver punching an elderly Japanese man near the entrance to a golf course on Mahidol Road.
"We are inspecting CCTV footage to track down the taxi," Chiang Mai police Lt. Col. Nitikorn Sangkhakorn said today. "From the information we have read, it won't be difficult. I believe we will be able to arrest and prosecute the driver who committed this crime for the sake of Chiang Mai's city image."
Nitikorn said police learned of the incident from Facebook and immediately dispatched officers to the scene to gather evidence.
According to the story from Fang Fary on Facebook, the unidentified tourist hailed the red truck taxi, or rot daeng, from a condominium to the golf course. They reportedly settled on a 50 baht fare, but the driver demanded more money at the end of the trip, which the Japanese man refused to pay.
Photo of the alleged wounds on the Japanese man's face posted by Fang Fary
An argument ensued. That's when Fang said the driver started beating the Japanese man.
"Right now, the uncle is very scared. His eyes are swollen and his lip is bleeding. He's too scared to go anywhere now," Fang wrote. "He didn't even want me to take photo of him, because he's scared."
She posted a close-up photo described as a wound to the Japanese man's face as proof of the assault, which she said took place at around 9:30am on Tuesday.
To reach us about this article or another matter, please contact us by e-mail at: [email protected].
Follow Khaosod English on
and
Twitter
for news, politics and more from Thailand.