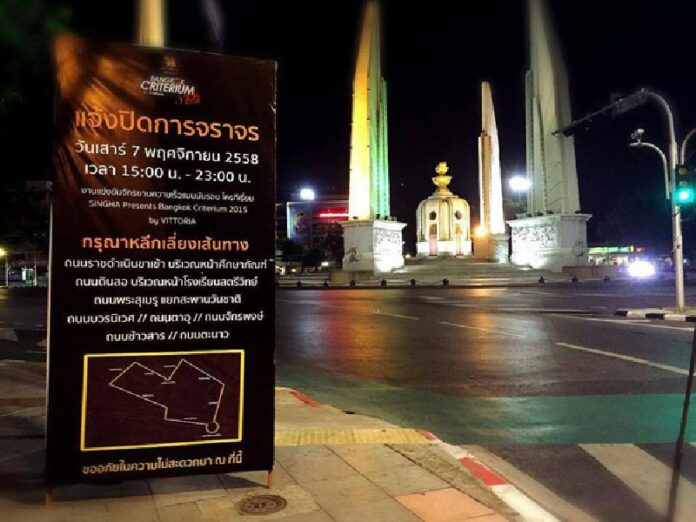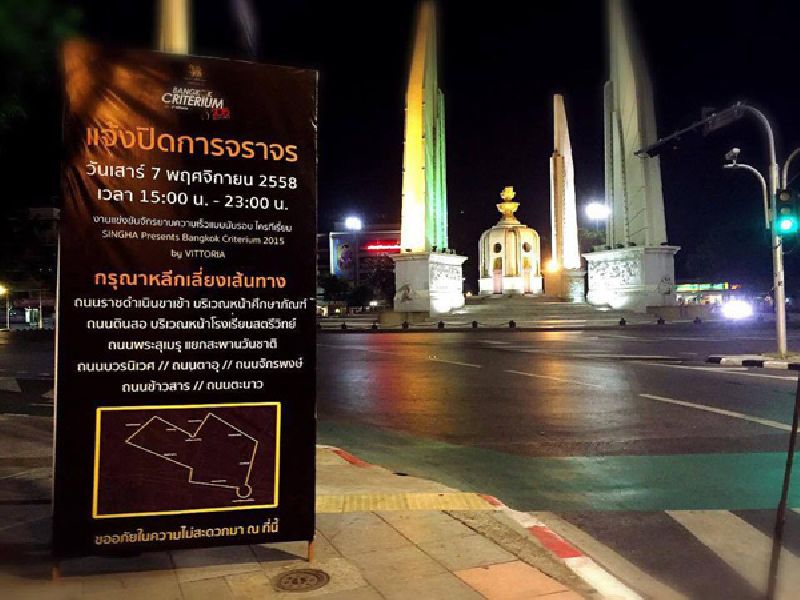 BANGKOK — Between a commercial cycling event and university graduation, traffic Saturday on Ratchadamnoen Avenue is expected to hit nightmare level, even by Bangkok standards.
Organizers of the Bangkok Criterium asked the public via Facebook today to avoid the area Saturday, as their event would close several roads from 3pm to 11pm.
The race, sponsored by Singha Corp., said arrangements had been made in cooperation with the police, but Senior Sgt. Maj. Chalakom Kijthongsai of the nearby police station on Khaosan Road told Khaosod English his office had heard nothing about it.
Dinso Road and Ratchadamnoen Avenue from the Khok Wua intersection to the Democracy Monument, organizers said. Four of the avenue's eight lanes would remain open for two-way traffic.
Some online said they were alarmed by the announcement as traffic around the Sanam Luang was already expected to be awful as it was Thammasat University's graduation rehearsal day. Thousands attend the event every year, which is known for crippling traffic in the area.
Facebook user Pitchakorn Poompayoong said it seemed to be poor planning.
"The schedule of the graduation day was already out, and we all know from the past how congested traffic gets during the rehearsal day," he wrote in reply to the Criterium announcement. "… Let's see Saturday whether it's gonna be a mess or not."
Completing the trifecta of traffic torture, the Chao Phraya river's nearby Tha Chang Pier, another popular way to avoid traffic, shut down today for two weeks of renovation.
It should be back in service Nov. 20.