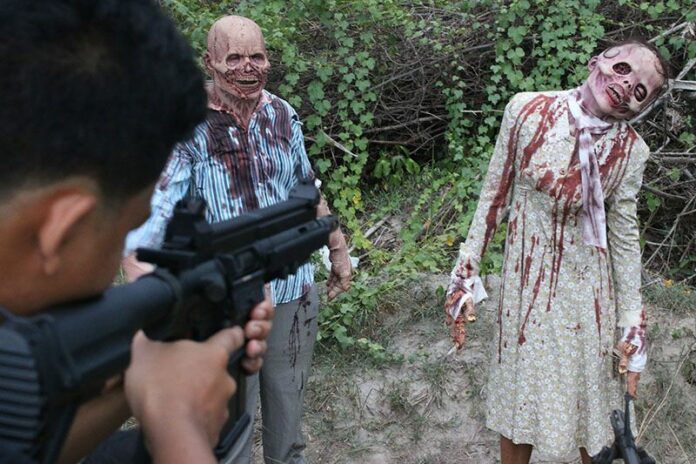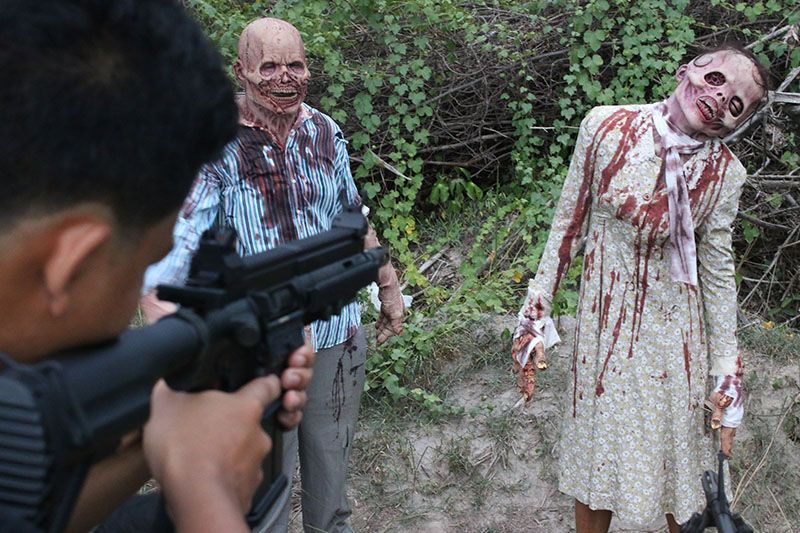 By Lisnaree Vichitsorasatra
Staff Reporter
HUA HIN — Love guns? Love using said guns to blow the hell out of the undead? Bored of doing it in countless video games?
Then get thee to Hua Hin, where a sort-of grown up army brat has put a Day Z twist on wargaming at Siam Milsim, a zombie-killing paradise for warnerds and gamenerds alike.
On Nov. 21, nine hours of zombie warfare will play out there at a special "Zombie Infection" event.
The premise, as they say, is simple:
"Rebels have created a virus and are preparing an army of zombies," it reads. "The world needs you to join our special forces unit, kill the enemies and exterminate the zombies before the virus spreads." Tickets are 4,000 baht.
Owner Surat Santom, 43, was raised near a Korat army base and taught by his uncle how to shoot. For a decade now, he's been shooting real guns and Airsoft guns. Airsoft guns are the pellet guns of your parent's generation, tooled out with detail-accurate replica authenticity.
He said it's a good way to learn about self defense, and Siam Milsim is partly about teaching people what he learned as a child.
"The game teaches camaraderie and survival skills," Surat said.
That sounds nice, but it seems most players will be drawn to sate their necrocidal impulses.
Every shooter at Siam Milsim is assigned a trainer who teaches how to shoot with the Airsoft guns and wear protective gear. After training they head out for the game arranged for that day.
There are ATV (all-terrain vehicle) hunts which involve riding through the mountains while the rest of the team shoot targets for 45 minutes (2,200 baht). Load onto a jeep and spend two hours plugging Zeds on a night time "Zombie Safari" (2,500 baht).
Beware the zombie crocodiles. Photo: Courtesy Siam Milsim
The occasional Zombie Infection events are all-day tours in which participants are equipped with ATVs and weapons to clear a village by operating as a squad. Since it's a day tour, it includes drinks, food and goodies.
Santom said some of the most fun comes from shooting moving targets, the zombies played by actors.
"The ghosts masks are scary. They're expensive and imported from Hollywood," said Damien J. Mink, manager of Siam Milsim. So far, Damien says warriors from Singapore and Malaysia love the game.
Be warned however, because these zombies shoot back. Get tagged with a ribbon, and a medic will take you out of the game. Like escape games, there's a password to decode to get out of the room safely.
Mink said the game is safe and they've had no accidents so far. Safety goggles and other protective gear are supplied. Also, Mink swears, airsoft pellets hurt a lot less than paintballs.
Tickets are on sale now for the next Zombie Infection event on Nov. 21. ATV tours and the safari can be booked for any day. Guests can visit the shooting range and learn to shoot for 300 baht to 400 baht. For more information visit Siam Milsim.
Update: Siam Milsim has changed the date of the next Zombie Infection event to Nov. 21.