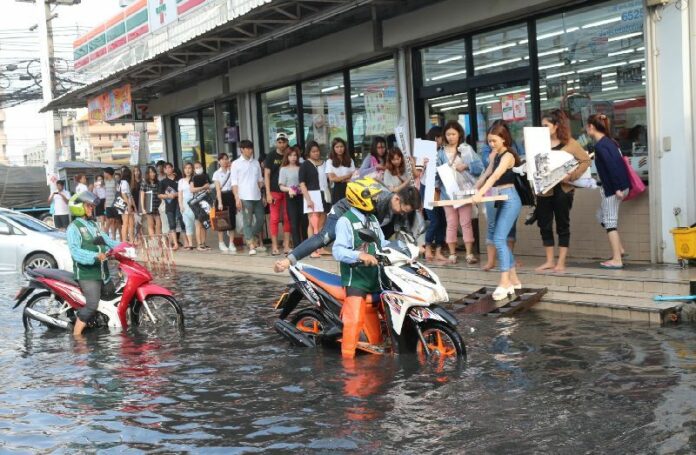 By Megan Rowling
Thomson Reuters Foundation
BARCELONA — Even if the world succeeds in meeting a goal to limit global warming to 2C, rising seas will still submerge land home to some 280 million people around the planet, researchers said Monday.
But if U.N. talks fail to reach a new deal to slow climate change and it continues at today's rate, the number of people living on threatened land would jump to 627 million as global temperature rise hits 4C, said a report issued by climate science research group Climate Central.
Some 155 countries have promised cuts in their national greenhouse gas emissions as part of a climate deal due to be agreed at a Paris summit in December. But those reductions still add up to global warming of between 3C and 3.5C, the United Nations Environment Program said last week.
At 3C, a median sea-level rise of 6.4 meters would affect some 432 million people living below that level, the Climate Central report said.
"The outcome at Paris can point us toward losing countless great coastal cities and monuments around the world, unending migration and destabilisation, or toward preserving much more of our global heritage, and a more stable future," Benjamin Strauss, Climate Central's vice president for sea level rise and climate impacts, said in a statement.
China, the world's leading carbon emitter, has the highest number of people at coastal risk, with 145 million people living on land ultimately threatened by rising seas under warming of 4C.
India is next with 55 million, followed by Bangladesh, Vietnam, Indonesia and Japan.
The Unites States is the most threatened nation outside Asia, with roughly 25 million people on implicated land.
Limiting global warming to 2C would cut exposure by more than half in the United States, China and India, the world's top three carbon emitters, as well as in many other nations, Climate Central said.
The predictions are based on projected sea-level rise that would be locked in by different emissions scenarios this century – but the actual change in sea levels is expected to play out over a longer period, likely centuries, Climate Central said.
Mega-cities with the largest at-risk populations include Shanghai, Hong Kong, Calcutta, Mumbai, Dhaka, Jakarta and Hanoi.
Nearly one quarter of New York City residents live on land rising seas could submerge under a business-as-usual scenario.
"œSea-level rise is nothing to be afraid of, because it is slow, but it is something to be worried about, because it is consuming our land, including the cities in which we create our future heritage today," said Anders Levermann of the Potsdam Institute for Climate Impact Research in Germany.
Climate Central offers an online mapping platform into which users can type a coastal city name or postal code worldwide, and compare the potential local consequences of different warming or emissions scenarios.