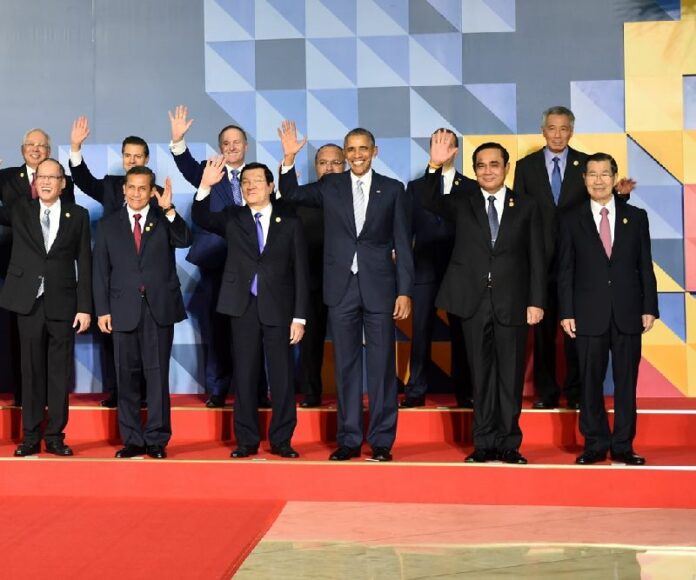 MANILA — Junta chairman Prayuth Chan-ocha said he told U.S. President Barack Obama today that concerns about human rights violations in Thailand were partly based on inaccurate news presented by people with bad intentions.
Gen. Prayuth said he and Obama had the brief conversation on the matter as they sat next to each other this morning at a regional economic summit in Manila. It was the second time Prayuth encountered Obama, whose government condemned the coup d'etat he staged in May 2014.
"Mr. Obama stressed that he's well aware of the complexity of Thai politics, but the things that worried him are issues about human rights," Prayuth said in an interview with Thai reporters in Manila today. "I insisted to him that I'm already trying to take care of these issues, but they were really [the results of] news presented by people with bad intentions. Sometimes, these reports were presented without any facts, so it led to misunderstanding."
He went on, "Therefore, I would like to urge the press not to report the wrong information they receive, especially on human rights issues, because it could cause the other side to pick up the issues and use them to pressure us."
There was no immediate comment from U.S. officials about the conversation.
Prayuth, Obama and 18 other world leaders are attending the 23rd Asia-Pacific Economic Cooperation, or APEC, summit which opened Tuesday for three days in the Philippines.
It is the second time Prayuth encountered Obama at an international summit; the previous meeting took place when the two leaders crossed paths during the United Nations General Assembly in New York City on Sept. 29.
Junta chairman Prayuth Chan-ocha and U.S. President Barack Obama shake hands on 29 Sept. at the United Nations General Assembly in New York.
The United States is among several nations which criticized Prayuth's coup d'etat against the elected government in May 2014. The United States also downgraded its cooperation with Thailand and pledged that full relations would only be restored when a new civilian government is voted into power.
Nevertheless, the seemingly cold relationship between the two nations appeared to thaw recently, with the arrival of new U.S. Ambassador Glyn Davies in Bangkok in September. Previous ambassador, Kristie Kenney, retired from the post November 2014, and the position remained unfilled until Davies' arrival.
On Oct. 29, Davies paid a visit to Prayuth at Government House – the first meeting between a top American envoy and the general since the 2014 coup.
U.S. Ambassador Glyn Davies meets with junta chairman Gen. Prayuth Chan-ocha Oct. 29 at Government House.
In the interview with reporters today, Prayuth said he expressed his gratitude to Obama for appointing a new ambassador for Thailand.
"Obama replied that it was a pleasure, because the alliance between Thailand and the United States has existed for a long time, and we cannot not abandon each other," Prayuth said. "He also said he would gladly support Thailand to achieve democracy, which I assured him I would do my best to make Thai democracy a complete and sustainable one."
Following the meeting in Manila today, Prayuth would reportedly travel to Kuala Lumpur tonight to attend the 27th ASEAN Summit which would last until Sunday.
Related news:
Handshake Heralds More Tactical US Approach to Junta
Obama Offered Handshake to Prayuth, Govt Says
To reach us about this article or another matter, please contact us by e-mail at: [email protected].
Follow Khaosod English on
and
Twitter
for news, politics and more from Thailand.