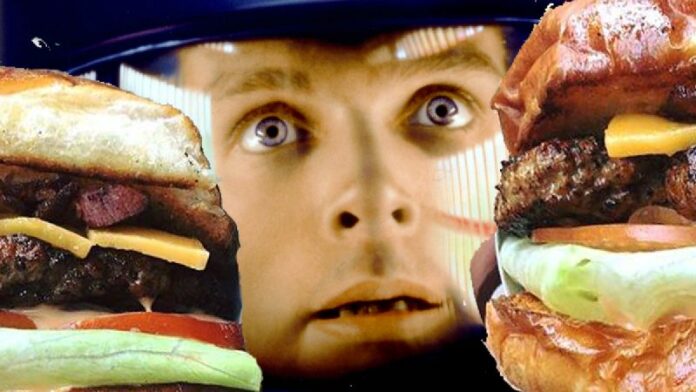 By Lisnaree Vichitsorasatra
Staff Reporter
BANGKOK — Yeah, we know you're still waiting for the opening of In-N-Out Burger, but for now bite into the bounty of burgers new and hold to hit Bangkok.
From guilt-free veggie and cruelty-fed foie gras to good old beef, Bangkok has become lousy with burgers to satisfy every expectation.
The health-minded are unlikely to be reading about burgers, so let's make it easy: Broccoli Revolution on Soi Sukhumvit 49 for the Broccoli Quinoa Charcoal Burger with mango tomato salsa (B235). For a serious meat-eater such as myself, it's difficult to describe the shame-free feeling of a vegetarian patty in my belly. Unlike after meat burgers, I was greeted the next day by my weight-watching parents (mine, not theirs) who congratulated me on not looking bigger. The mango tomato salsa gives a sweet taste in contrast to the patty's blandness. It's served with salad or french fries, but even the fries – sweet potato and not too oily – won't cause a coronary event. That good stomach feeling can continue with some of the fruit juice sold here, but it's pricey (B100-180) compared to the street (B30-ish).
For another beefless burger try the Soft-shell Crab Burger with avocado and wasabi mayo now on the menu at Another Hound Cafe at Siam Paragon. Instead of fries, it comes with a lemony, mayonnaise-free coleslaw. Get a single patty (B290) or double-decker (B520). I went with the single, thought I was full and ended up getting another dessert. The softshell crab is fried, so if you're avoiding fried food, this is not an option. Also the avocado was on the thin side, but when is that not the case with restaurant avocado?

Burger from Seed. Photo: Seed / Facebook

Anyone who lives in Bangkok will have heard of the Daniel Thaiger food truck, said by some to be the realm's most delicious mobile eatery. This past weekend they served their famous foie gras burger – something to keep an eye out for. But let's talk about their original beef burgers.
First of all the size of the burger is a perfect fit for your hands. Also, they fold the wrapper in a way that keeps it tightly in place. Remove this paper at your own peril.
The meat is good, but don't order medium-rare unless you want a lot of soft meat in your mouth; medium seems best. The Daniel Thaiger truck is most often found on Soi Sukhumvit 23 in front of Whisgars and Craft. Check their Facebook page for updated intel including how to reserve a burger.
For more burgers with a twist try newly opened Seed (Near BTS Phrom Phong but not walkable) for a burger with a dry-aged beef patty, onion rings, Jack Daniels mayonnaise, and fries cooked in duck fat (A spendy B500).


Soft-shell Crab Burger at Another Hound Cafe. Photo: Another Hound / Facebook

Taste a California-style burger called the Dead Boy Beef Burger (B200) at another new joint, Let The Boy Die (yup, it's a Thrones thing if you don't get the reference). The Dead Boy comes with blue cheese, mushroom, carrot and cabbage coleslaw. The American TV references continue with the Six Feet Under pork burger (B200). Good place in Yaowarat area (Chinatown) to bring some beer-loving buddies.
Like music with your meatburger? Not new, but still good: Fatty's Bar & Diner on Rama IX Road for live music by local rock bands on the weekends. More recently Fatt's has deployed the Lil Fatso food truck serving up yummy blue cheese sliders. I haven't had Fatty's burgers in awhile, but beware other appetizers such as their jalapenos poppers are so delicious that you might want to skip the burger all together and just order four more.


Lil' Fatso food truck. Photo: Dave Crimaldi