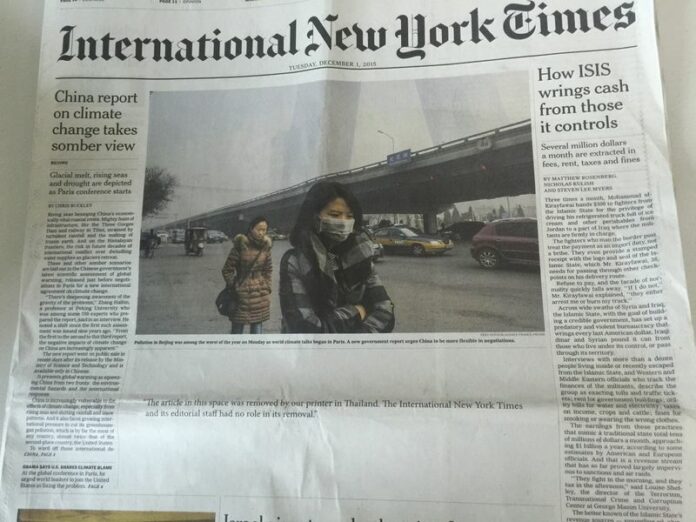 BANGKOK — There was a big hole on the front page of The International New York Times today after the newspaper's local printer refused to publish a story about the challenges and frustrations in the kingdom.
For the second time in three months, the paper's printer in Bangkok, Eastern Printing Publishing Co. Ltd., declined to publish a sensitive article concerning Thai politics in Tuesday's edition of the paper.
"The article in this space was removed by our printer in Thailand. The International New York Times and its editorial staff had no role in its removal," read a sentence in the blank space in place of the intended article, Thai Economy and Spirits Are Sagging.
The article was written by longtime regional correspondent Thomas Fuller. It explored the anxieties and disappointment in Thai society and the economy under junta management. It also discussed the sensitive topics of royal succession and the Rajabhakti Park scandal.
Representatives of the New York Times could not be reached immediately for contact. Reached by telephone, a representative from Eastern Printing in Bangkok denied the company was under any order to censor the story and said it was the company's call.
The representative, who declined to give her name, said the printer had received advance notice from the Times there would be a sensitive article in today's edition.
"There was no request from the state," she said. "In fact, the owner of the newspaper also participated in the deliberation. … They told us there would be news that may need some deliberation on our part."
She declined to give any further information and referred questions to the New York Times.
The article was published in other regional editions, including Myanmar, and is accessible online.
Earlier on Sept. 22, Eastern Printing declined to print and distribute the International New York Times as its Asia edition featured a story about issues involving the health of His Majesty the King, 87-year-old Bhumibol Adulyadej.
The Times insisted that decision was solely that of the printer, who deemed the article "too sensitive."
Last month the International New York Times announced it would cease publishing and distribution in Thailand by the end of this year due to rising production costs.
The newspaper will still be available in neighboring countries and throughout the region in Singapore, Brunei, Malaysia, Indonesia, the Philippines and Myanmar.