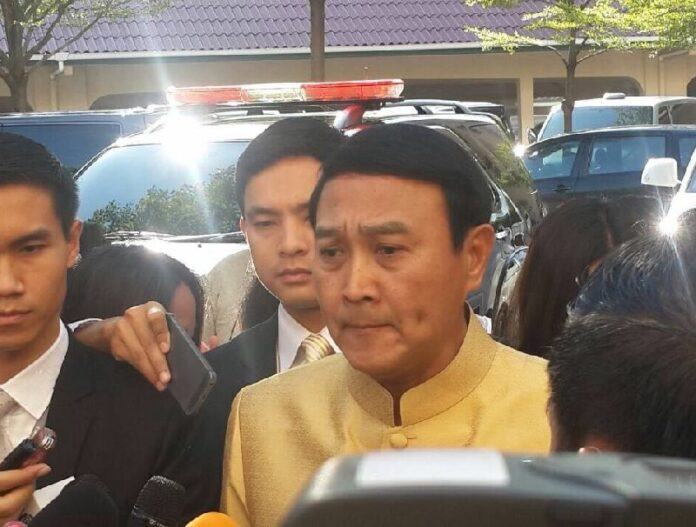 BANGKOK — Leaders of the two largest political parties have called on deputy Minister of Defense and former army chief Udomdej Sitabutr to resign in the wake of alleged corruption in a billion-baht park project built under his watch.
Democrat Party chairman Abhisit Vejjajiva today called for Gen. Udomdej to take responsibility and step down, joining a chorus that includes similar calls from members of the rival Pheu Thai Party, which led the former government toppled in May 2014.
"Speaking frankly, it was the person responsible for this project who conceded that there were some irregularities," Abhisit said. "This is what makes society ask, so who should take responsibility?"
Udomdej Sitabutr has been at the center of criticism in media reports and from junta critics since he admitted last month that he was aware of some corrupt practices in the building of a "history park" to honor the monarchy. The project, said to cost over 1 billion baht, is under internal investigation for a second time, this time by the Ministry of Defense.
Abhisit's call came after Pheu Thai Party issued a statement Friday calling for the retired general to resign from his post in the cabinet as deputy defense minister, citing the park scandal.
The unsigned Pheu Thai statement said Udomdej is now tainted by links to two army officers wanted by police for allegedly insulting the monarchy. One of the suspects, Col. Kachachat Boondee, is specifically accused of embezzling Rajabhakti Park funds.
Therefore, in order to save the military government from disgrace, "Gen. Udomdej cannot hold the position of deputy Minister of Defense any second longer," the statement said.
Udomdej himself broke weeks of silence today to reject those calls at Government House, where he was attending the weekly cabinet meeting.
"I'm still working as usual," the general told reporters. "People who work in the government have their own duties. Don't worry about this, because Prime Minister Prayuth Chan-ocha already said that we don't have anything other than the spirits to complete our efforts."
Top Democrat Abhisit today said that while Udomdej's resignation would help provide closure over the issue, the investigation must continue.
He recounted Udomdej's own admissions of corruption in the project, such as paying a middleman 10 percent "commissions" for construction of the seven giant statues of historical kings, which reportedly cost about 40 million baht.
At the time, Udomdej explained the middleman had already "donated" the money back to the project. Abhisit said that wasn't enough.
"The standard here is that [it's ok] to say there was some irregularity, and the money was already returned in some other form? Society still has doubts," he said. "Therefore, resolving this issue will help make all things clearer."