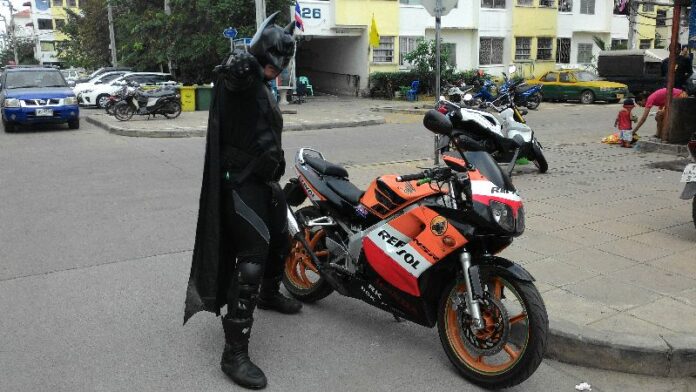 BANGKOK — People watching Bike for Dad on Friday were surprised by a caped and cowled vigilante, whose appearance prompted police to move in and intercept him.
Pictures shared online showed the black clad anti-hero driving a rather convincing Batmobile down Ratchadamnoen Avenue, where he was detained briefly by police for questioning Friday before being allowed to continue on his way.
"We found a person dressed up as Batman in a fancy black car on the road, so we pulled him over for some questions," police Lt. Col. Somchai Jaisook said Friday. "We didn't find him guilty of anything."
The man behind the mask was identified as Kampanat "Peat" Chankaew, 29. He is a merchant who sell models and toys at a market and online. He said that he transforms into Bruce Wayne usually one night per week to cruise around Bangkok on a motorbike or his Batmobile.
Peat said he's part of a group of seven people who share a passion for Marvel and DC superheroes. They dress up as characters such as Batman, Spider-Man, Superman and Captain America for charity work at the Rajvithi Home for Girls and crime-prevention campaigns.
"Some people say I'm crazy," Peat said. "But since I see many people smile because of what I've been doing, I believe that I can change the community into a better place."