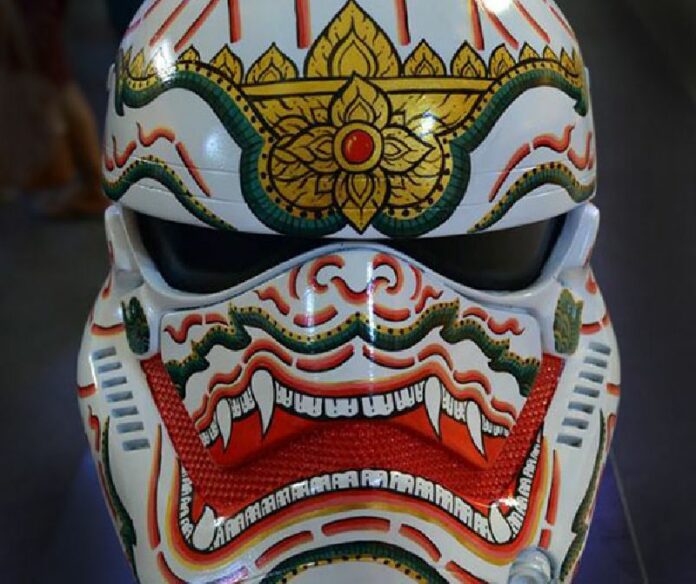 BANGKOK — Atis "Art" Ruchirawat was a young boy when he walked into a movie theater in the United States to see "Return of the Jedi" and walked out a fan for life. Yuthana "Jediyuth" Ngamlert was first introduced to Luke, Leia, Han and Chewie during the '90s at Chiang Mai University when his class watched "Star Wars Episode IV: A New Hope" to practice English.
In three days Star Wars fans will queue to snatch tickets and be among the first to revisit a galaxy far, far away when "Star Wars VII: The Force Awakens hits screens Thursday. To learn about the history of Thai fandom, I sought out Art and Jediyuth, two masters of the Force and first-gen fans.
In 2001, Art, became known as the most hard-core fan Thai Star Wars fan when he won a television game show in which otaku of different passions vie to be crowned "The Biggest Fan." Art emerged as the Fan Pan Tae in an episode that year dedicated to Star Wars fans.

Atis 'Art' Ruchirawat at left with his glorious Star Wars 'Best Fan' trophy; Yuthana "Jediyuth" Ngamlert at right
For the final question, he had to answer a deceptively simple question: Which character said "May the force be with you" in "A New Hope?" If you answered Obi-Wan Kenobi, submit to Art's choke-hold of trivia.
Two characters said the line in Episode 4, and the recorded sample used in the game show came from Han Solo before Luke flies off in his X-Wing to make his desperate, last-ditch attack run against the Imperial Death Star. (Spoiler: He succeeds.)
"In my opinion, the generations most deeply into Star Wars were Baby Boomers and Generation X, even to this day," said Art, now 44. "For my generation, the original trilogy revolutionized sci-fi movies. With the breakthroughs in technology and audience expectations, I think Gen Y and Z, who watched the prequel trilogy, won't get the same impact we did."
Jediyuth, 42, is a well-known movie blogger and subtitle translator. (His most recent contribution: dystopian indie rom-com "The Lobster.")
He said images and icons of Star Wars, which have entered the global culture, also blended well with Thainess.
"I remember watching the old version of Singha Krai Phob and saw the characters had these swords which looked pretty much like Jedi lightsabers," Jediyuth said.

Soi Suda (Thamolpan Panuchitputtiwong), the heroine of 'Singha Krai Phob' wields a lightsaber-like weapon in the famous 1997 folklore-driven soap opera. Photo: บทเพลงปีศาจ / Pantip
Neither fan – nor anyone in Thailand – saw "A New Hope" when it premiered in 1977. Like many Western movies at the time, it wasn't distributed in the kingdom due to an exorbitant tax increase on imported films. Foreign studios balked at the idea of paying 30 baht per meter of film instead of 2.2 baht.
"The Motion Picture Association of America couldn't fight the tax increase, so they decided not to import foreign films into Thailand," Lido Apex Managing Director Nantha Tansajja told Matichon in 2012. That effectively shut out Western films until some time after Thanin was overthrown.
---
It's been 32 years since Return of the Jedi and a decade since its disappointing second coming ended in "Revenge of the Sith." With the franchise now in the hands of the Walt Disney Co., do these arch fans believe the new film will live up to the classic?
Art: I believe that "The Force Awakens" will be the most profitable Star Wars among the others since J.J. Abrams, known to be a die-hard Star Wars fan, hopped into the director's chair. It's gonna be a movie made by a Star Wars fan, for Star Wars fans. Looking at the first two rebooted Star Trek movies [he directed], I believe we won't be disappointed.
Jediyuth: I believe Star Wars will be fresh and offer enough genuine excitement to pull in all kinds of audiences, even today's kids who haven't heard of Star Wars before. For old-generation fans, seeing the movie will be like a reunion with old friends, while young people seeing the movie will feel like they're meeting new friends and a new world.
---

Poster for "Star Wars IV: A New Hope"
'Behind the Scene of Star Wars III,' an article by Thawatchai Siripatrachai in the August 1983 edition of science magazine Miti 4th. Kob Baka / Facebook
Poster for the 1997 special edition re-release of 'Return of the Jedi' in Thai. Photo: John Rozum / Blogspot
Related stories:
Do or Not Do There is No Try: Bangkok Events to Awaken Your Force
Star Wars Inspires Tourism Chief To Use Force of Filmmaker Refunds
Do or Not Do There is No Try: Bangkok Events to Awaken Your Force
Star Wars Inspires Tourism Chief To Use Force of Filmmaker Refunds