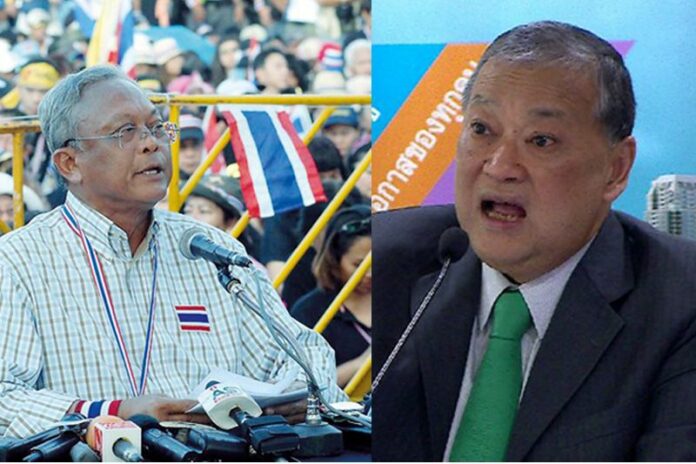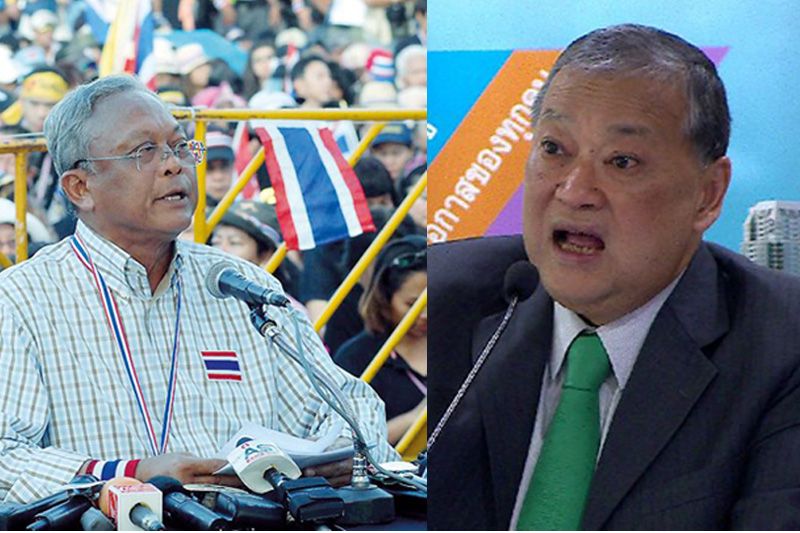 BANGKOK — Former protest leader and Democrat Party member Suthep Thaugsuban today denied rumors he was preparing to launch a new political party with the governor of Bangkok.
Saying they had not met in a long time, Suthep today denied rumors that he recently discussed building a new party to contest the 2017 municipal election with Gov. Sukhumbhand Paribatra, who has reportedly fallen out of grace with Democrat Party leadership.
Suthep, who resigned from the Democrat Party to lead the street protests precipitating the ouster of the former civilian government, said the two men enjoy a good relationship, but he is no longer interested in running for office.
Rumors seeded in media since Sunday claimed agreement had mostly been reached over the idea, and the party would start with seven to 10 members and an expected investment of 3 billion to 4 billion baht
In October, former Democrat and Bangkok MP Wilas Chanpitak leaked internal party allegations of corruption under Sukhumbhand's two terms as governor. Whether to send a warning or a sign of infighting, a series of leaked allegations have followed detailing misuse of large sums of money spent for overseas training and security cameras, to the latest revelations of expensive musical instruments bought for schools managed by city hall. Wilas has called for Sukhumbhand to be removed.
Late last month the party scandal resurfaced with rumors the Democrat Party had met secretly in violation of the junta ban on political gatherings to consider kicking Sukhumbhand out of the party because they were unhappy with his management of city hall.
On Nov. 24 party leader Abhisit Vejjajiva said they had not, as did Sukhumbhand himself. Today the governor declined to answer questions on the matter.
Speaking as one, influential current and former party figures today rejected the rumors out of hand, saying it was an impossibility as Suthep had already resigned from the party and vowed to stay out of politics.
"If the source revealed themselves, we would have known what they wanted," said deputy party leader Ongart Klampaiboon.
Wilas also played down the news today, saying it likely came from someone close to Sukhumbhand to make a statement that he still holds power to negotiate.
Related stories:
Democrats Deny Ousting Bangkok Governor