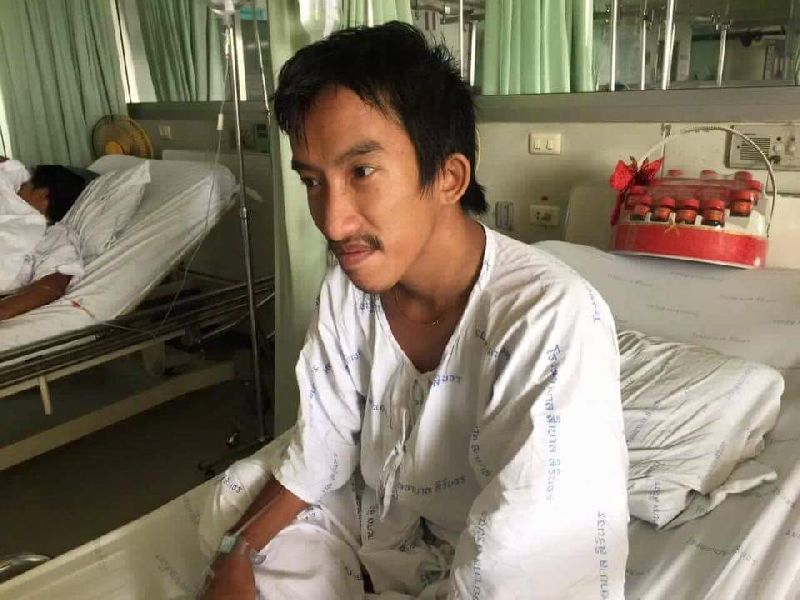 By Pravit Rojanaphruk
Senior Staff Writer
BANGKOK — Concerns have been raised about the health of a man arrested and whisked away by plainclothes officers Sunday from Sirindhorn Hospital in eastern Bangkok, where he was awaiting surgery.
Thanet Anantawong, 25, was admitted to the hospital with an intestinal infection Friday. He was about to be operated upon for a hernia, when he was taken away to face charges of defaming the monarchy. This pertained to the sharing of an infographic alleging military officials and others were involved in graft related to the Rajabhakti Park scandal.
Thanet is reportedly being detained at a special military prison inside the 11th Military Circle in Bangkok, where relatives have been asked to bring his medicine.
---
Facebooker Charged For Defaming Royal Dog 'Tong Daeng'
---
Nirand Pitakwatchara, a medical doctor and former National Human Rights Commissioner, said he was concerned for Thanet's health after reviewing the list of the medicine the now-detained patient was being administered by the hospital's doctor.
The use of two antibiotics combined into a strong dose – Clindamycin and Ciproflaxacin – suggests a rather severe infection, Nirand said. He questioned whether the doctor made a proper prognosis of Thanet's health condition before he was taken away from the hospital and expressed concern about the his health under detention.
Nirand said the doctor who cared for Thanet at Sirindhorn Hospital should know what would be the best medical care for Thanet, and whether the his pending operation was urgent.
"Otherwise he might end up having a blood infection," Nirand said with a sardonic chuckle, referring to late lese majeste suspect Suriyan Sucharitpolwong who suddenly died last month in military custody at the same facility of what officials later described as a blood infection.
Reached for comment, a Sirindhorn Hospital female staff said Monday the hospital would only consider answering questions about Thanet and his care after it received a letter formally requesting an interview.
Those who actually made the graphic for which Thanet and a second man have been charged today called for the junta to prosecute them instead of people who liked or shared it online.
Rangsiman Rome, a leader of the New Democracy Movement, this afternoon called for the military regime to hold his group responsible for the Rajabhakti Park corruption map.
Rangsiman also expressed concern Thanet might die in military custody.
Referencing a quote, Rangsiman said "even during the World War, the enemy's patients were not being treated this way. He was awaiting an operation."
Related stories:
More Charges Against Facebooker for 'Liking' Photos
Military Arrest Facebooker Over Park Graft Infographic
Police Probe US Ambassador for Defaming Monarchy