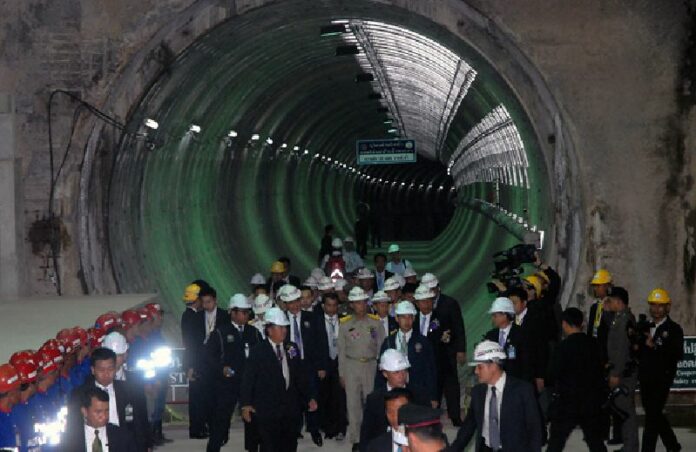 BANGKOK — Officials today celebrated the successful completion of an underwater tunnel beneath the Chao Phraya River, the first of its kind in Thailand.
Part of the MRT Blue Line extension, the 200-meter tunnel crossing under the river from what will be the MRT Sanam Chai station beneath the historical old town area near Wat Pho.
Much of the Blue Line extension was excavated using a Japanese-built tunneling machine 6.44-meters in diameter with a cone head designed for breaking through concrete piles expected along the way, according to Tunneling Journal.
Construction of the Blue Line extension began in 2012 during the administration of Prime Minister Yingluck Shinawatra. It will consist of 21 stations along 27 kilometers from from MRT Hua Lamphong to Bang Khae. It will run under Yaowarat Road then to Wang Burapha before running beneath the river near the Pak Khlong Flower Market to Thonburi, where it will emerge to connect to the proposed MRT Tha Phra station.
It was originally scheduled to open in 2015. Overall construction is now said to be at 70 percent, with service expected to launch June 2019.
Photo : Tunneling Journal