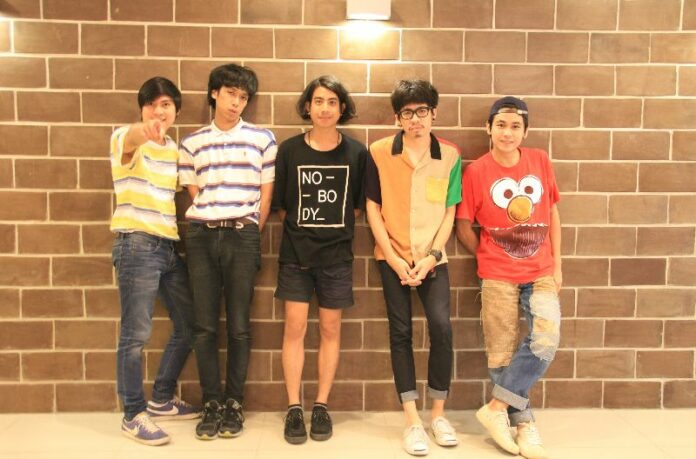 BANGKOK — "Hi. My name is Boat. I studied at Mahidol University," singer Kanawin "Boat" Cheartaw stuttered when told an interview was for English-language media, sending his four bandmates into laughter.
Five years after covering their favorite bands got them noticed, Somkiat has proven with their first album that producing solid, rhythmic music can sell records and break through without the support of Big Music. Their November album, "_SARA," came just as they gained some notoriety for a song featured in "Hormones the Series."
In short: good music both mainstream normals and subculture hipsters can enjoy.
It was in 2010 that Non, Boss, Boat, Nut and Yim covered Modern Dog's "Ta Sawang" and Arctic Monkeys' "Certain Romance" and placed first in the Coke Music Awards. Today, the entire first-run of "_SARA" is sold out less than a month after it released.
Named for a common Thai name with a swell meaning ("prestige" or "dignity"), Somkiat came together in 2008 when they were students at Mahidol University's College of Music.
The same five guys then are the same five guys now: Kanawin "Boat" Cheartaw (vocals), Purich "Boss" Phansook (guitar), Thanon "Non" Sanglek (guitar/vocals), Nut Benjarongrat (bass) and Prawith "Yim" Hansten (drummer/eye candy).
https://www.youtube.com/watch?v=lixRgJ64FmY
Somkiat at the final round of Coke Music Awards 2010
KE: What do you think about the direction of the music industry these days?
Somkiat: We think that these days, there is no line to say that this or that genre is better than others. Contemporary music is genre-blending without limit. It's getting harder to give the bands and their songs categories.
For example, our label mates Polycat mixes varied characteristics of '80s music, pop and R&B together. We don't think focusing on the music genre is important anymore. To be able to express our feelings from the core into the songs is more important.
We think our album selling out is a good sign because some people say "physical CDs are now dead." We don't think it's true.
KE: Some of your fans say they know Arctic Monkeys from you, how do you feel about that?
Somkiat: We all thought it'd be a lot of fun to play Arctic Monkeys, even not though not many Thai people knew them at the time. But we all agreed if we covered the band, maybe we could find someone who liked Arctic Monkeys too.
KE: How did you choose those four British bands; Arctic Monkeys, Swim Deep, Everything Everything and Superfood?
Somkiat: Actually, we had different inspirations, but we shared them and talked it through to find our common interests. We listened to these bands since they started. We can sense they're playful and experimental, just like our band. We want to try new things, we want to do something fun without having to define ourselves that we're only this or that type of band and need to stick with one pattern.
KE: So Somkiat are not gonna define themselves?
Somkiat: Well, if we really need to define ourselves, I'd say we're alternative-indie, rock-pop. But we think it depends on the audience. We do our thing here and let the audience decide.
https://www.youtube.com/watch?v=LRIZtsn5guU
Somkiat cover of Arctic Monkeys' "Crying Lightning"
Boat: Singing in English is not usually my thing. But when it comes to singing Arctic Monkeys, I found it very challenging yet fun.
Well, apart from "Certain Romance" which we played in the final round of the Coke Music Awards, we also played many Arctic Monkeys tracks such as "Teddy Picker," "The View from the Afternoon," "Crying Lightning" and "I Bet You Look Good on the Dance Floor" both at the contest, in bars and restaurants.
KE: Why the underscore (_) in the new album's name?
Somkiat: Well, we want to stress the word "sara" [Ed. note: "substance"], but we let the audience decide and fill in the blank about whether we do or don't have substance (laughing.)
KE: Since you covered Arctic Monkeys and won the Coke Music Awards in 2010, how will your upcoming concert at "Indieinspiration 2" be different?
Somkiat: We don't want to be just an Arctic Monkeys' cover band that gets praised for a perfect imitation. We want to be Somkiat, who happen to play some Arctic Monkeys songs in our own style and tell stories from our own perspectives.
KE: Have any plans make songs in English?
Somkiat: No, we don't. We think we should do our best in Thai and instead get our voices internationally recognized. Look at "Gangnam Style," it blew up worldwide despite being sung in Korean. Also, English is not our mother-tongue, we don't think we can produce our best singing in another language.
Boat: I can't even introduce myself fluently. (Others laugh)
Somkiat: We want to encourage other bands to come out, fearless, and try to make it as musicians. There are still many people out there who are interested and will support good work.
"Chang Man" (Whatever) was featured in season three of "Hormones the Series"
Somkiat is signed to Smallroom. In March the band will perform tracks from their first album and covers by Arctic Monkeys, Swim Deep, Everything Everything and Superfood at "Indieinspiration 2"at Live House Bangkok, Chatuchak Green.