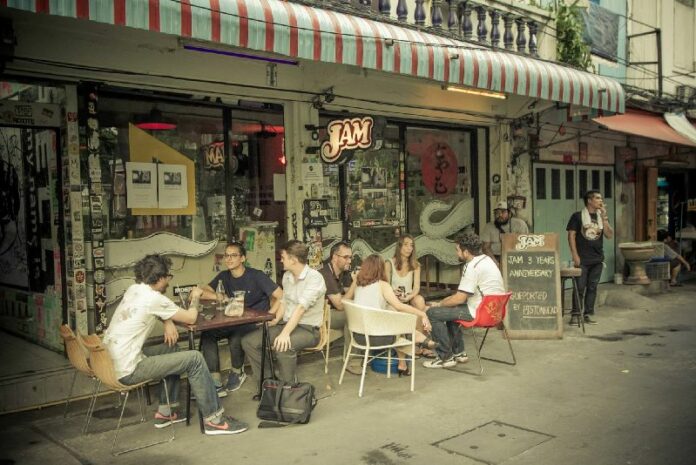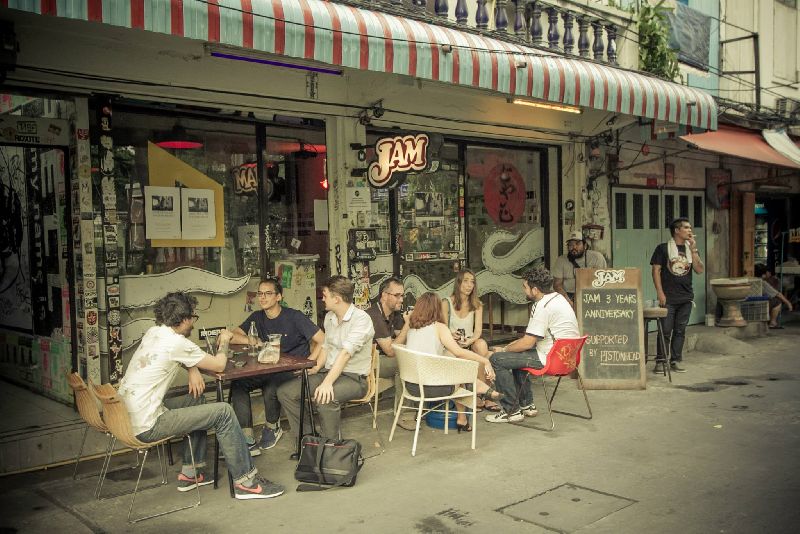 BANGKOK — "It's like being a cog in a wheel…" Dhyan Ho, owner of Jam said of his previous life working at a lighting company in Australia. Instead, he dreamed of opening a bar. After quitting his job to travel around Europe and Asia, that dream became reality four years ago when he landed in Thailand and later opened a place just off lower Sathorn Road.
Jam is best described as an art-bar-gallery whose works by underground artists may not be immediately apparent. Its retracting metal door is covered in vivid graffiti by Belgian artist Toska. Inside, a table is filled with action figurines, including one of junta chairman Prayuth Chan-o-cha. A huge golden phallus stands ready for worship in a corner. In my first visit to the bar, an artist from the United States explained how he'd photographed his penis from 20 different angles to experience what it's like to be sexualized.
Several years since it first opened as nothing more than a daytime cafe/restaurant, Jam has become known for serving heapings of culture along with the beer and burgers. Depending on what night one walks in, they might find experimental transexual noise musicians, bizarro Japanese DJs, a movie-watching club or vintage video-gaming night.
Ho, 31, speaks with Aussie-inflected English, and as many learn, despite being Asian, he doesn't speak Thai. And although he appears to be in an eternal state of relaxation, he isn't lazy. Napanarit "Butter" Savantrach, his partner and co-owner, describes him as a serious man whose goal is to make the bar succeed.
"He always talked about turning Jam into something, like a gallery, and finding artists that can go with him and other people," she said.
Ho's search for the authentic started with dissatisfaction in his early years. Growing up in Malaysia, Ho recalls the government monitoring his mother's work as a performance artist. His father was a photographer who wanted the family to live in a more liberal country. But even after they moved to Australia, Ho said he didn't feel free.
At university there, Ho studied industrial design. He remains proud of a lighting installation in which walls lit up by touch. When he graduated, he got the product design gig with the lighting company. Not happy with the work and creatively unsatisfied, he wanted to open a bar, but found too many obstacles in Australia.
"If there are three chairs instead of two, it's illegal," he said of the strict regulations about what can go where and for what purpose.
At Jam, he has eight or so stools and chairs, and more inside, and it doesn't matter if they're used for drinking, eating, watching movies or playing Mario Kart. On slow nights, one of the bar's two dogs are probably in one.
"He thinks that's his chair," Ho said.
Earlier this year Jam opened a second-floor gallery to host exhibitions. Every Wednesday night it holds Jam Cine Club, a watch-and-chat event for film geeks, and nostalgic gaming has a monthly home there at 8-Bit Bangkok.
Otherwise the regular music events range from drum 'n' bass and funk to reggae and electro-experimental.
These days the bar and its owner's projects are for artists, musicians, filmmakers, and anyone who wants to showcase their talent.
"They want to express themselves no matter what they do," Ho said of the people he wants to support. In the last two months there have been lighting installations, photography installations, art exhibitions, and even a Nonsense Karaoke Party where you are encouraged to sing with abandon like when you're showering.
In November, Ho was one of the organizers of the Bangkok Underground Cinema fest, which promoted short films by filmmakers and students at Noise Market, a free music and arts event held at Museum Siam.
"People will prefer to support or have someone that is established, that they either can buy or sell to a lot of people," he said. Not for Ho, who opens his bar and make projects for people who have never been given a chance to get their foot in the door in their chosen field.
Ho's projects extend beyond his bar. One is to document messages people scribble onto construction sites, "…even if it's a message like 'I want to fuck this girl' or something sweet, it's a piece of humanity," he said.
Although he didn't have any elaborate plans ("I need to plan more," he confesses. I asked him what he wanted to draw or do to a blank canvas and he said, "I wouldn't do anything, really.") for Jam or his life, but that's just being human, and he seems to be playing the part with ease.
Jam is about a five-minute walk from BTS Surasak on Charoen Rat Soi 1. On Friday/Christmas Day, it will host Not Christmas to "to jolt you violently out of the festive spirit" with an experimental, harsh noise rap duo from New York and a Dutch DJ. On Jan. 22, Vimana Sound will feature classic Khmer sounds from DJ Oro, founder of the Cambodian Vintage Music Archive.