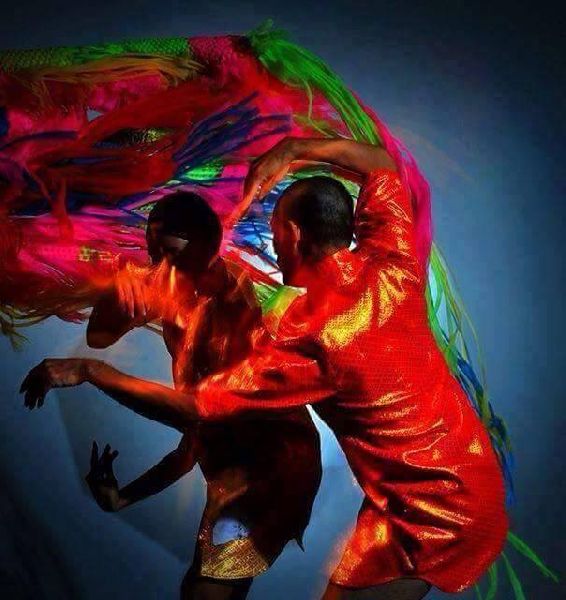 By Lisnaree Vichitsorasatra
Staff Reporter
"What do you think that looks like?" Pichet Klunchun, the contemporary khon artist and provocateur asks the audience, pointing to a large yellow object. "It's a toilet seat."
The long, yellow oval stage stood in the center of the theater. It looked like a water slide, or perhaps the yellow brick road from The Wizard of Oz. Or, okay, maybe a toilet seat. We're at Chang Theater on Bangkok's Prachauthit Road. Pichet works here and lives next door.
Dancers move as if to electronic music, but the music begins with a folk song from the Phi Ta Khon festival in Loei province.
The five dancers stick their tongues out mid-trance, but unlike Miley Cyrus, they wipe their mouths and close them again. They shake like they are possessed by ghosts, dropping dramatically to the ground. A dancer moves dangerously close to the edge of the stage but pulls herself back at the last moment. It ends about an hour later with what sounds like a hospital patient flat-lining.
Performers try to find their way out of the cycle of suffering in a dance inspired by the Phi Ta Khon festival. Photo: Courtesy of Pichet Klunchun
"It's like fish being pounded," he said of a scene where the ghost-dancers shake and fall to the floor. After death, they wake up and enter a trance-like stage, moving in slow motion.
After a year's break, Pichet Klunchun, known for his controversial, contemporary take on khon, or traditional Thai dance, is back. His new production is based on the Phi Ta Khon festival, which despite sharing the word khon and using masks, is entirely different. On a recent Saturday he staged a preview of his new performance, "Dancing with Death."
Meefund clip on Dancing with Death:
Dancing in Dan Sai
Pichet's inspiration came from a visit to Dan Sai in Loei province, where the Phi Tha Khon Festival is held each year. The festival is a three-day affair where ghosts are invited to meet people in the village. Locals put on colorful costumes and elaborate masks and dance in celebration. They open the festival by dancing, then they invite the ghosts into their abodes, and it all ends with a ceremony to send the ghosts back home.
In Pichet's version, a spiritual dimension is incorporated into the show. He told Khaosod English that he meditates at least an hour every day.
Photo: Nattapol Meechart
"The yellow [stage] represents desire or the emotion that keeps us moving," he said. The stage is oval-shaped which Pichet describes as the "zero" where performers have to find the exit. Eventually no one is able to reach the empty, black part, where suffering ends.
Pichet applies the raw, organic, repetitive motions of the local people dancing at the festival, to the dance. He explains that people in Loei practice one movement over and over again. So he takes one hand rotation, which is repeated throughout the dance, asking the performers to improvise. "I asked the performers to take time and find the exit," he said.
Less the Outsider
In the past, Pichet was labelled as the destroyer of culture by the old guard for putting a contemporary twist on traditional khon. Instead of going through the same approved routines, Pichet may throw in jolts of modern music and nontraditional moves. Sometimes he strips naked or near to it. After years of being scorned by the self-appointed defenders of Thai culture, some are beginning to come around to his thinking on keeping culture alive.
"More people are open to it," he simply conceded.
Yet, Pichet said it's difficult to find patrons for his art. He's seeking the 4 million baht needed to stage "Death" through a crowdfunding campaign via Meefund.
If enough support is drawn, his troupe will stage performances in Thailand. Either way, he plans to take it to Japan in February for the TPAM in Yokohama arts festival, Singapore in May and Australia in 2017.
To reach us about this article or another matter, please contact us by e-mail at: [email protected].