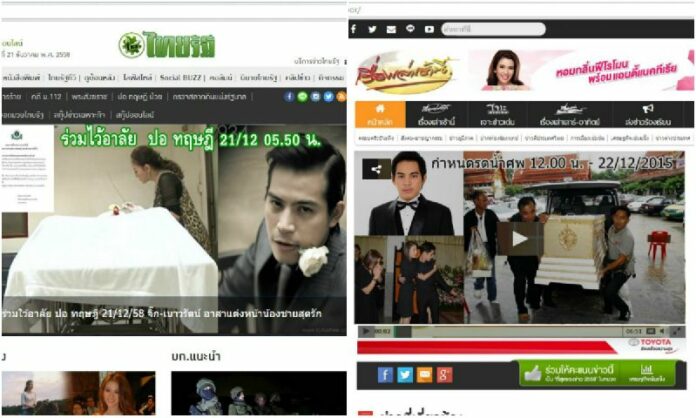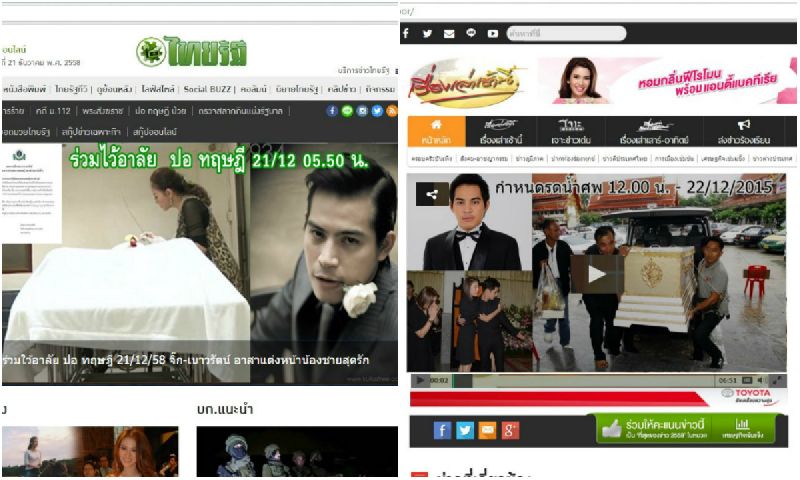 BANGKOK — Thrisadee "Por" Sahawong is being mourned yet again online, thanks to a growing number of fake news hoaxes claiming he has died.
More bogus news stories about the funeral of the actor – who has been a media obsession since he fell into a coma nearly two months ago – have spread since Monday morning, this time made to look like online media companies Thairath and BEC-Tero Entertainment.
"Come and pay respect to Por," read the headline on a story made to look like Thairath, while the fake site of BEC-Tero announced bathing rituals for the actor would be held at noon today.
The fake news stories came several days after a similar hoax targeted Khaosod newspaper. In all three cases, the fake items were widely shared online and drew a slew of condolences from the actor's fans.
"My husband asked me this morning if Por's dead already because he saw his friends share the news online. I told him that it's a porn site," wrote Facebook user Giing Giingkaew on the Drama-addict page. "People read the headline and believe it's true. If they bother to click to read the content inside, they'd be a little less stupid."
Clicking the articles leads users to hardcore porn sites.
Thairath announced it has filed a criminal complaint with police. Khaosod newspaper filed its own complaint Friday. Police reportedly said those responsible for the posts, namely Heedara.com, were likely outside of Thailand.
Related News
Porn Purveyor Tricks for Clicks with Bogus 'Por' Obit
Media Enables Sorcerers, Seers to Capitalize on Stricken Star
Nation Gripped by Comatose 'Lakorn' Superstar
To reach us about this article or another matter, please contact us by e-mail at: [email protected].